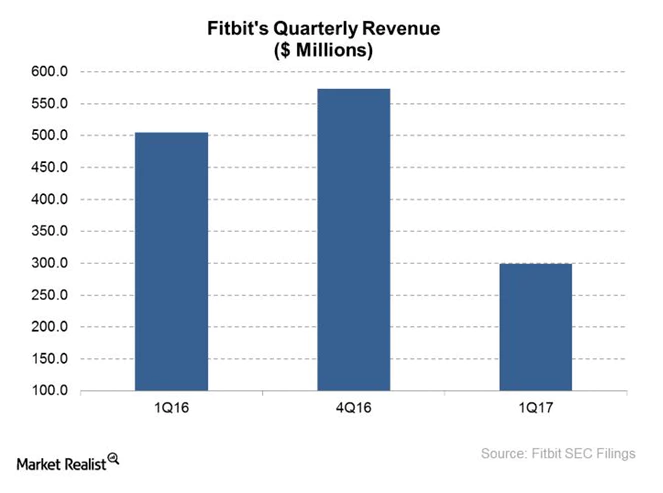 The 2% Fall in Fitbit Stock since May 1
Stock fluctuations in May
The stock of US-based (SPY) Fitbit (FIT) has been volatile for a while. It has fallen more than 80.0% since the beginning of January 2016, as there were concerns over the company's long-term sustainability. However, Fitbit stock rose more than 12.0% on May 4, 2017, after the company posted its 1Q17 results.
For 1Q17, Fitbit reported revenue of $299.0 million with a non-GAAP (generally accepted accounting principles) net loss per share of $0.15. It was a 40.8% fall YoY (year-over-year) from $505.4 million in 1Q16. Adjusted EBITDA (earnings before interest, tax, depreciation, and amortization) fell from $45.1 million in 1Q16 to $52.3 million in 1Q17.
Article continues below advertisement
Article continues below advertisement
Fitbit's CEO (chief executive officer) James Park was optimistic about device sales in the second half of 2017. He said, "Underlying consumer demand has been better than our reported results in North America as we work down channel inventory levels, giving us increased confidence that we will enter the second half of 2017 with a relatively clean channel."
Analysts expected revenue of $280.4 million
Despite a 40.0% YoY fall in sales in 1Q17, Fitbit stock rose 12.0% on May 4, 2017, since it beat analysts' revenue estimate of $280.4 million by 6.6%. Analysts expected Fitbit to post EPS (earnings per share) of -$0.19 compared to -$0.15 reported in 1Q17.
However, since the 12.0% rise on May 4, 2017, Fitbit stock has fallen 11.9%, closing at $5.61 on May 22, 2017.