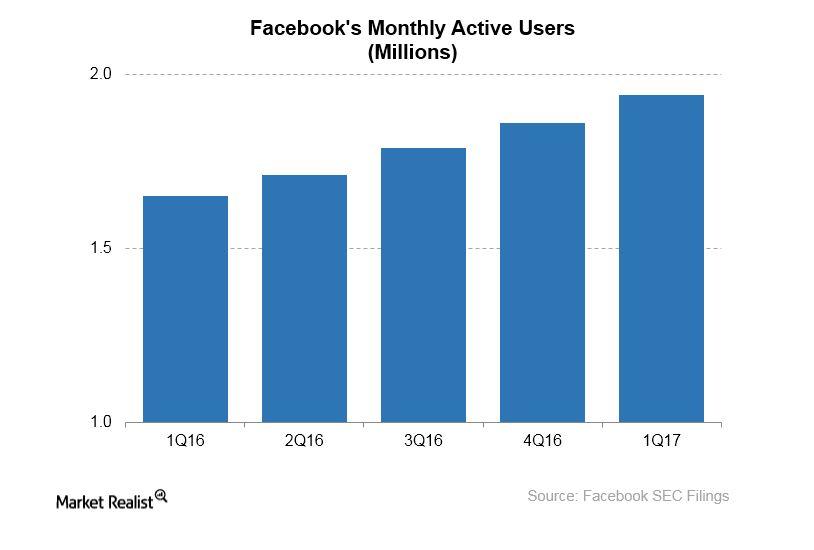 Facebook's Efforts to Appease Media Companies
Faster mobile loading
Facebook (FB) is building a paywall tool that would allow publishers to charge for access to stories they publish on Instant Articles, according to the Wall Street Journal.
Instant Articles is Facebook's news platform where publishers can post articles directly. Stories published on Instant Articles load faster on mobile devices than stories posted on publishers' native sites.
Facebook also touts Instant Articles as a platform for publishers to reach a wider audience. The company finished 1Q17 with more than 1.9 billion monthly active users, as the chart above shows.
Article continues below advertisement
News monetization
Facebook's paywall could bring much-needed relief to media companies struggling to grow their revenues in the digital era, where print sales have fallen and advertisers are spending their budgets elsewhere. Internet companies like Facebook, Alphabet's (GOOGL) Google, Twitter (TWTR), and Yelp (YELP) are gobbling up ad spending at the expense of media companies, largely because of their massive subscriber bases.
The paywall would allow publishers to monetize their content beyond advertising.
Forging stronger media ties
In addition to the paywall potentially generating incremental revenue for Facebook, it could help the company forge deeper ties with media companies. As it works to grow its video business, Facebook needs help from media publishers. Running a news paywall also give Facebook access to vital data that it could leverage to produce more relevant video content or sell targeted ads.
The paywall could also bolster Facebook's competition against Google, Twitter, and Apple (AAPL) in the digital news business.