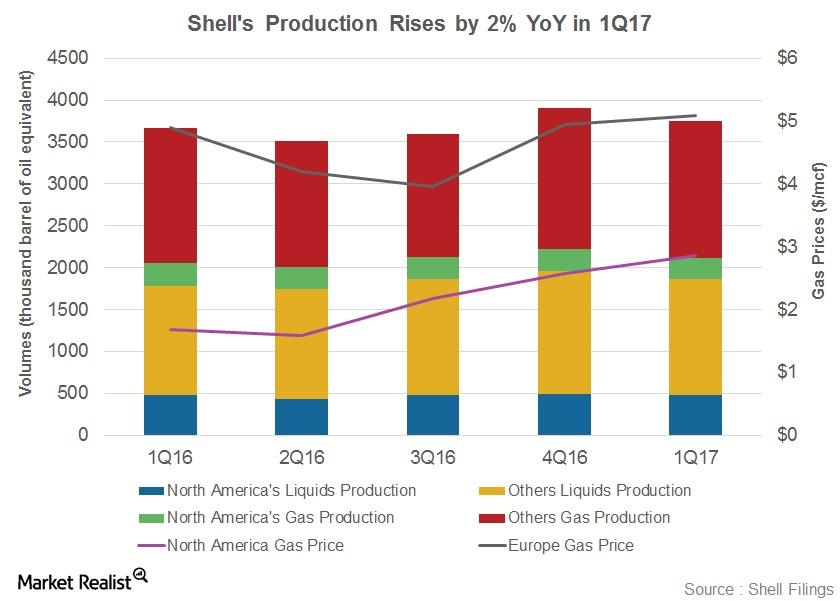 Shell's Upstream Portfolio: Is it Poised to Grow?
Shell's upstream segment production
Royal Dutch Shell (RDS.A) produced 3.8 MMboepd (million barrels of oil equivalent per day) in 1Q17 from its worldwide operations, compared to 3.7 MMboepd in 1Q16. It's important to consider that of the total production in 1Q17, 3.0 MMboepd, or 80.0%, is from operations outside North America.
Article continues below advertisement
Shell's crude oil and natural gas realizations
Liquids account for 1.9 MMboepd, or 50.0%, of Shell's total production. Oil and natural gas prices have risen in the past few quarters. Shell's average liquids realizations in North America rose from $26 per barrel in 1Q16 to $45 per barrel in 1Q17. Shell's (RDS.A) average global liquids realizations stood at $48 per barrel in 1Q17, which was higher than its North American realizations.
Also, Shell's (RDS.A) natural gas realizations in Europe are quite higher than its North America gas realizations. The average natural gas realizations in North America were $2.9 per mcf (thousand cubic feet) in 1Q17. But its European operations yielded $5.1 per mcf. Lower prices in the United States are due to a higher supply of natural gas in the country.
Shell's upstream portfolio: Robust and competitive
Shell has consistently been rechurning its upstream assets to create a competitive portfolio. On the one hand, Shell has divested or canceled non-strategic projects, and on the other hand, it has taken up new upstream projects.
Considering its divestments along with past canceled projects such as Carmon Creek, Elba Liquefaction, Malaysia Dua JVA, and Bab sour gas reservoir, Shell has also announced other projects that are being divested. That includes oil sand assets in Canada, its UK North Sea assets, and onshore interests in Gabon.
Considering its new projects, Shell has a series of projects that are anticipated to start up in 2017–2018. These projects include Prelude, four new FPSOs (floating production storage and offloadings) in Brazil pre-salt and the Permian, Gorgon Train 3, Clair phase 2, and Schiehallion.
Article continues below advertisement
Shell also plans to increase production from its major projects in 2016–2017. These are self-operated projects such as BC-10 Phase 3, Farcados Yokri, Gbaran-Ubie ph2, Malikai, NA LRS, and Stones. Of these projects, BC-10 Phase 3 (Parque das Conchas) already started production in March 2016, Stones in September 2016, and Malikai in December 2016. Shell expects its new projects, which began in 2014, to contribute ~1.0 MMboepd by 2018.
Shell also has a large proved reserve base of 13.3 bboe (billion barrels of oil equivalent). That's expected to boost its upstream portfolio in the years to come. Shell's peers BP (BP), ExxonMobil (XOM), and Chevron (CVX) hold reserves of 17.8 bboe, 19.8 bboe, and 11.1 bboe, respectively.
Shell (RDS.A) (RDS.B) and BP (BP) are members of the FTSE 100 Index, which is comprised of large UK companies. XOM and CVX are components of the SPDR Dow Jones Industrial Average ETF (DIA) and the SPDR S&P 500 ETF (SPY). These ETFs can provide exposure to large American companies. Each of them has a ~6.0% exposure to energy sector stocks.