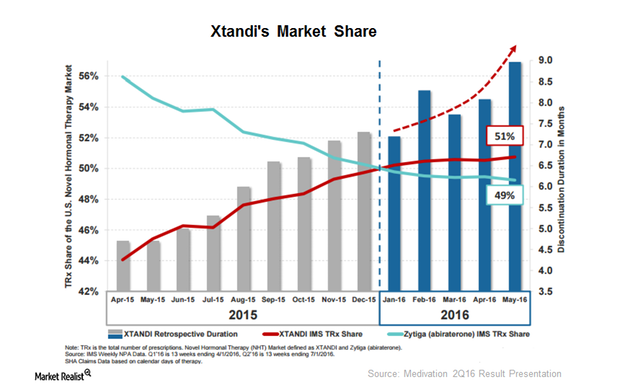 How Xtandi Fueled Big Pharmaceutical Interest in Medivation
Xtandi
Xtandi is the major factor behind Pfizer's (PFE) interest in Medivation (MDVN). The drug, along with MDVN's pipeline molecules, should strengthen Pfizer's (PFE) oncology franchise. Xtandi is a blockbuster prostate cancer drug used in the oncology and urology spaces. The drug offers significant opportunity in the form of upstream prostate cancer indications. You can learn more about Xtandi's significant opportunity in Opportunities For Xtandi, Medivation's Key Drug.
Article continues below advertisement
During the second quarter of 2016, Xtandi generated sales of $595 million, of which $330 million came from the United States. During the first six months, Xtandi's overall sales rose 35% yearly to $1.1 billion. Xtandi's continued increase in duration, along with new patient starts, fueled its worldwide sales. Based on patient discontinuation, Medivation estimates that the mean duration of Xtandi treatment was nine months in the second quarter of 2016.
Xtandi surpasses Zytiga in market share
Xtandi has a very strong position in the NHT (novel hormone therapy) market with a 51% share. The NHT market comprises Xtandi and Johnson & Johnson's (JNJ) Zytiga. To understand the addressable market for Xtandi, please read Analyzing Medivation's Growth Opportunity with Xtandi.
Xtandi is poised to become the fourth-largest oncology drug by fiscal 2021, behind Celgene's (CELG) Revlimid, Bristol-Myers Squibb's (BMY) Opdivo, and AbbVie's (ABBV) Imbruvica. For detailed information on Xtandi's position in the oncology space, please see Medivation Sees Growth in Xtandi: A Major Oncology Drug.
If you're risk-averse, you could select the First Trust NYSE Arca Biotechnology Index Fund (FBT). It has a 3.4% weight in Medivation.
Continue to the next part of the series, where we discuss analyst recommendations for Medivation.