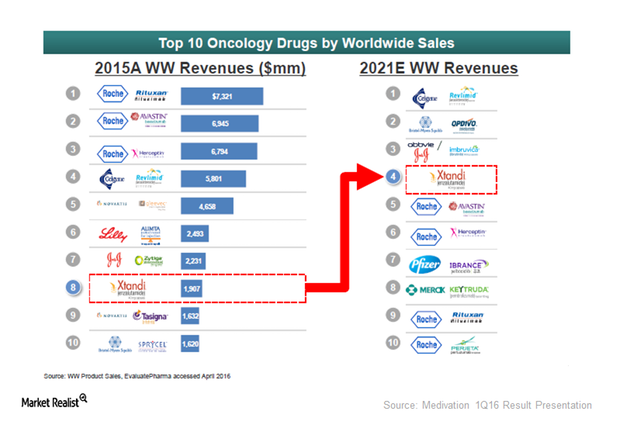 Medivation Sees Growth in Xtandi: A Major Oncology Drug
Medivation (MDVN) is an oncology-focused biopharmaceutical company, and Xtandi as its only approved drug.
Xtandi as a leading oncology drug
Medivation (MDVN) is an oncology-focused biopharmaceutical company, and Xtandi is its only approved drug. Xtandi's use as first-line therapy in metastatic castration-resistant prostate cancer (or mCRPC) is rising. Within three and a half years of its launch, the drug is now the eighth-largest oncology drug in terms of worldwide sales.
For more information on the drug, please refer to Opportunities For Xtandi, Medivation's Key Drug and Xtandi: A Major Prostate Cancer Drug
Article continues below advertisement
Article continues below advertisement
With continued label expansion, it's expected to become the fourth-best-selling drug by fiscal 2021. It's poised to become the best-selling oncology drug in Europe by fiscal 2022. In terms of European sales, Xtandi is expected to surpass Bristol-Myers Squibb's (BMY) Opdivo and Celgene's (CELG) Revlimid. With biosimilar availability, Roche's (RHHBY) blockbuster drugs may be displaced.
Prescription growth
In the oncology space, prescriptions grew 90% annually during the first quarter of 2016. Overall growth for the total and new prescriptions stood at 6% and 7%, respectively. Duration of the drug's use was a key factor driving sales.
Xtandi's prescriptions in oncology exceed its urology prescriptions. To further enhance sales, MDVN has expanded its specialty sales force. It trained 40 additional sales representatives. The impact on the drug's sales will be visible in later quarters. As of March, the sales force hadn't hit the market.
Industry-specific factors such as pricing pressure, pipeline approval, and volume uptake contribute to the company's share price performance. To avoid direct risk, an ETF could be an option. To get exposure to Medivation and control excessive company-specific risks, you can access the iShares Russell Mid-Cap Growth ETF (IWP). Medivation accounts for 0.32% of IWP's total holdings.