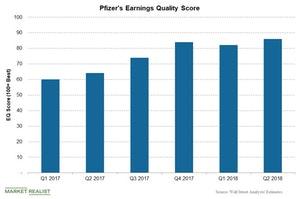 Pfizer's Earnings Quality and Dividend Performance
By Mike Benson

Sep. 27 2018, Updated 10:30 a.m. ET
Pfizer's dividend performance
Pfizer (PFE) has announced the following interim dividends so far in 2018:
It announced its first-quarter interim dividend of $0.34 on December 18, 2017, and paid it on March 1, 2018.
It announced its second-quarter interim dividend of $0.34 on April 26 and paid it on June 1.
It announced its third-quarter interim dividend of $0.34 on June 28 and paid it on September 4.
Pfizer's dividend yield is 3.09%. Its dividend yield last year was 3.53%, and its five-year average yield is 3.44%.
The above chart compares the changes in Pfizer's earnings quality (or EQ) score since the first quarter of 2017.
Article continues below advertisement
Earnings quality
Earnings quality is a measure referring to the ability to predict a company's future earnings based on its reported earnings. The EQ score is measured on a scale of 1–100, where 100 is considered the best. The components of the EQ score include accruals, cash flows, operating efficiency, and exclusions.
Pfizer's EQ score is 86 compared to the industry median of 33. Pfizer's relatively high EQ score signifies that it has much higher earnings quality than its peers.
Pfizer's score for accruals is 78, while its score for cash flows is 87, and its score for operating efficiency is 80. Its score for exclusions is 24.
Pfizer's EQ score was increased from 82 to 86 based on its second-quarter earnings. The ratio of its asset-to-liability accruals fell to 0 from 1.3 in the last quarter.
The First Trust Morningstar Dividend Leaders ETF (FDL) holds 5.8% of its total investments in Pfizer, 3.6% in Merck & Co. (MRK), 3.5% in AbbVie (ABBV), and 0.4% in Cardinal Health (CAH).