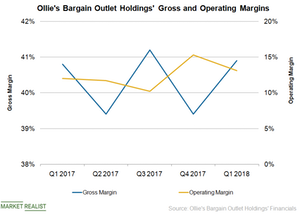 Ollie's Bargain Outlet's Expanding Operating Margin
By Victoria Dean

Jun. 13 2018, Updated 9:03 a.m. ET
Recent margin numbers
In the first quarter of fiscal 2018, Ollie's Bargain Outlet Holdings (OLLI) reported a gross margin of 40.9%, an increase of ten basis points from the first quarter of fiscal 2017. The improved performance was driven by higher merchandise margins amid rising supply chain costs.
However, SG&A (selling, general, and administrative) expenses increased 17.2% to $72.4 million, mainly due to higher new store selling expenses. Also, ongoing investments and higher expenses due to higher sales volumes contributed to higher SG&A costs in the first quarter. However, the SG&A expense rate improved by 90 basis points to 26.2% in the fiscal first quarter due to higher revenue.
Higher sales and higher gross profit led to a 31.6% increase in operating income to $36 million. Operating margin rose by 110 basis points to 13.1% in the fiscal first quarter. Adjusted EBITDA rose to $41 million, reflecting YoY growth of 27.7%.
Article continues below advertisement
Fiscal 2018 outlook
For fiscal 2018, Ollie's now expects operating income in the range of $152.0 million to $154.0 million, compared with the earlier projected range of $149 million to $152 million. The company's operating margin is likely to get a boost from higher sales.
For fiscal 2017, the company's gross margin fell 40 basis points to 40.1% due to the reduction in merchandise margins. SG&A expenses increased 14.5% to $278.2 million. SG&A expenses rate was 25.8%, an improvement of 150 basis points from fiscal 2016. Moreover, operating income was 135.8 million, up 32.8% on a YoY basis. Operating margin was up 110 basis points to 12.6% in fiscal 2017.
How have peers fared?
Five Below's (FIVE) first-quarter gross margin expanded 110 basis points to 32.8% in the first quarter, driven by higher revenue. Its SG&A expense rate improved 170 basis points to 24.5%. Subsequently, its operating margin increased 280 basis points to 8.3%.
Big Lots' (BIG) gross margin contracted ten basis points to 40.4% in the first quarter due to higher markdowns. Its SG&A expense rate increased to 250 basis points to 34.6%. The operating margin contracted 260 basis points to 3.6% due to lower sales and higher expenses.