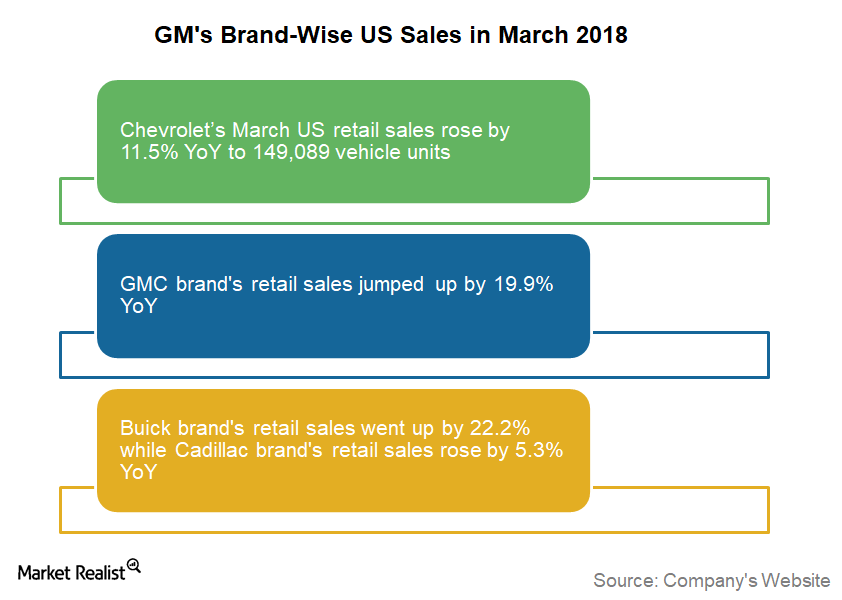 How GM's Brand-Wise US Sales Looked in March 2018
By Jitendra Parashar

Apr. 6 2018, Updated 10:31 a.m. ET
GM's March 2018 retail sales
In 2017, General Motors' (GM) Chevrolet brand's retail sales fell 1.0% YoY (year-over-year), and its total US sales fell 1.5% YoY. However, after a 13.5% YoY fall in February 2018, Chevrolet's total US sales recovered sharply in March 2018, which boosted GM's total US sales.
Let's take a deeper dive into GM's brand-wise retail sales data for March.
Article continues below advertisement
Brand-wise sales in March
In March 2018, the US retail vehicle sales (IYK) performances of GM's four key brands were as follows:
Retail sales of the company's key brand, Chevrolet, rose 11.5% YoY to 149,000 vehicle units in March. These data were also higher than Chevrolet's February retail sales of 108,000 units. Total Chevrolet brand sales rose 15.6% YoY last month.
Total US sales of the GMC brand rose 4% YoY to 56,000 vehicle units. Likewise, the GMC brand's retail sales jumped 19.9% YoY to 47,000 units.
About 27,000 vehicle units of the Buick brand were sold in March, a rise of 28%. Of these sales, 24,000 units were sold to US retail customers, which reflected an increase of 22.2% YoY.
In March 2018, the US sales of GM's Cadillac brand witnessed positive growth of 7% YoY. Similarly, the brand's retail sales rose 5.3% to 12,000 units.
Chevrolet shows strength
Since the early years of General Motors, Chevrolet has been the largest contributor to the company's total sales volumes. After the weakness it saw in February, Chevrolet's sales rose again in March, reflecting optimism that could boost the company's 1Q18 earnings.
Note that Chevrolet plays a key role in giving GM an edge over its peers, including Ford Motor Company (F), Fiat Chrysler Automobiles (FCAU), and Toyota Motor (TM), in the US market. Ford, Toyota, and FCAU were the second-, third-, and fourth-largest auto companies in the US market after GM by US sales volumes in 2017.
Continue to the next article to learn what Wall Street analysts are recommending for the top two US automakers, GM and Ford.