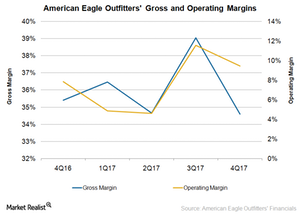 Why American Eagle Outfitters' Fiscal 4Q17 Margin Disappointed
By Victoria Dean

Mar. 14 2018, Updated 10:32 a.m. ET
Gross margin contracted
In fiscal 4Q17, American Eagle Outfitters' (AEO) gross margin fell 80 bps (basis points) to 34.6%, negatively impacted by an intense promotional environment. The company also saw a rise in shipping expenses due to higher digital revenue. However, these costs were offset by rent leverage.
Its operating margin increased to 9.4% in fiscal 4Q17 compared with 7.8% in fiscal 4Q16. It was driven by higher revenue, an improvement of 60 bps in SG&A (selling, general, and administrative) expenses, and lower impairment and restructuring charges compared with fiscal 4Q16.
SG&A expenses rose 9% due to higher store salaries on account of a robust holiday season, higher incentive compensation, and expenses related to the 53rd week.
Adjusted operating income rose 10% to $118 million in fiscal 4Q17. However, its adjusted operating margin fell 20 bps to 9.6%.
For fiscal 2017, the company reported a gross margin of 36.1%, down 180 bps. Its operating margin fell 120 bps to 8%. SG&A expenses rose 2.6% to $879.7 million. However, SG&A expenses fell 60 bps to 23.2% due to increases in revenue.
Article continues below advertisement
Peer performances
In fiscal 4Q17, Abercrombie & Fitch's (ANF) gross margin fell 90 bps to 58.4% since the benefits achieved from higher AUC (average unit cost) were negated by lower AUR (average unit retail). Its fiscal 4Q17 gross margin was also negatively impacted by an intense promotional environment.
Urban Outfitters' (URBN) adjusted gross margin declined 113 bps to 32.3%. Its gross margin also fell 176 bps to 31.3%. The company saw increases in delivery and logistics expenses due to higher digital sales and quicker shipments over the holiday season. Lower markdowns due to tight inventory management offered a bit of a cushioning.