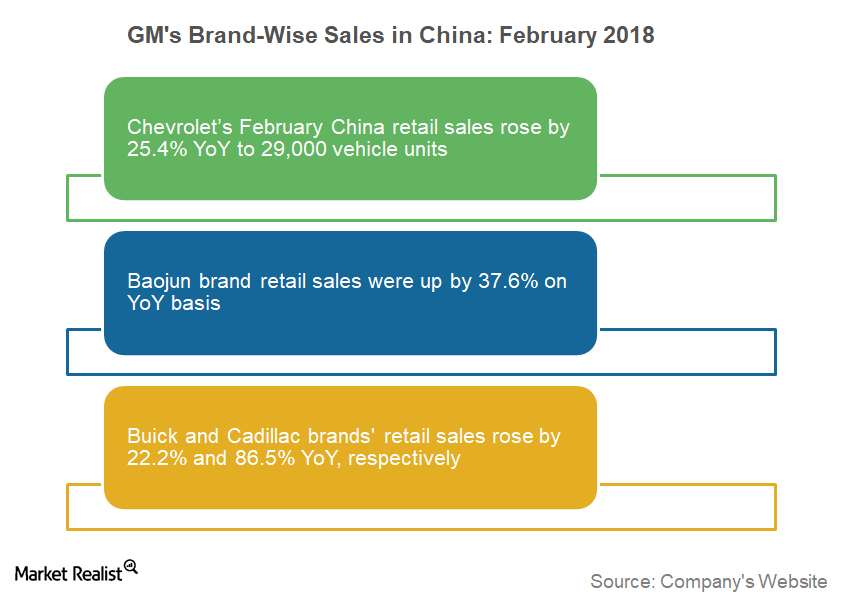 How Were GM's Brand-Wise Chinese Sales in February 2018?
By Jitendra Parashar

Mar. 26 2018, Updated 9:02 a.m. ET
GM's China sales in February 2018
China is one of the most important growth markets for General Motors (GM) among all its international business operations. In 2017, GM's Chinese retail sales rose 4.4% YoY (year-over-year) to 4.0 million vehicle units.
These sales gains were mainly driven by Chinese markets' higher demand for luxury vehicles and government tax cuts on small cars. Now, let's find out how the company's key brands performed in China in February 2018.
Article continues below advertisement
Brand-wise Chinese sales in February
In February 2018, the Chinese market retail sales (XLY) performance of GM's key brands were as follows:
Key global brand Chevrolet's sales rose significantly by 25.4% YoY to 29,000 vehicle units in February. However, this was much lower than Chevrolet's January Chinese retail sales of 54,000 units. Previously in 2017, Chevrolet's sales witnessed a 4.2% YoY increase.
Chinese retail sales of the Baojun brand also rose sharply by 37.6% YoY to 75,000 units last month. In 2017, Baojun's retail sales witnessed a solid increase of ~44.8% YoY.
About 67,000 vehicle units of the Buick brand were sold in February, up 22.2%. Buick's 2017 sales managed to be in positive territory with a minor rise of 0.2% YoY.
Chinese market sales of GM's luxury vehicle brand, Cadillac, rose significantly by 5% YoY to 17,000 units. Last year, the brand's Chinese sales were also up 50.8% to 175,000 units mainly due to high demand for luxury cars.
Wuling was the only one of GM's brands that saw a YoY fall in its Chinese sales in February 2018. The brand's sales fell 25.4% to 79,000 units. In 2017, Wuling's retail sales also fell 16.3% YoY.
In the last few years, major global auto companies including GM, Volkswagen (VLKAY), Toyota Motor (TM), and Ford Motor Company (F) have faced intense competition from local Chinese automakers. Local Chinese companies primarily benefit from lower costs of operations and labor in their home country. Also, high tariffs on imported vehicles in China make the environment more challenging for foreign automakers.
Continue to the next article, where we'll see how key Japanese automakers' sales were in China last month.