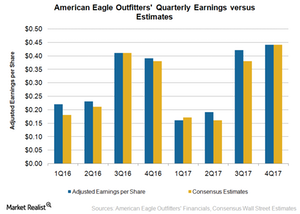 American Eagle Outfitters' Fiscal 4Q17 Bottom-Line Performance
Adjusted EPS in line
American Eagle Outfitters (AEO) reported adjusted EPS (earnings per share) of $0.44, which was in line with analysts' projections but better than $0.39 reported in fiscal 4Q16. Higher revenue and higher gross and operating profits led to a strong top-line performance.
On a reported basis, American Eagle Outfitters reported EPS of $0.52 (including an $0.08 benefit related to recent tax reforms) compared with $0.30 reported in fiscal 4Q16.
Article continues below advertisement
Fiscal 1Q18 outlook
For fiscal 1Q18, the company expects non-GAAP (generally accepted accounting principles) EPS, excluding asset impairment and restructuring charges, to be $0.20–$0.22 based on mid-single-digit increases in comps. The company reported adjusted EPS of $0.16 in fiscal 1Q17.
Store portfolio update
In fiscal 2017, the company opened 15 AE (American Eagle) stores, 15 Aerie stores, and 28 Aerie side-by-side locations. The company closed 25 AE stores and eight Aerie locations.
As of February 3, 2018, American Eagle Outfitters operated 933 AE stores, 109 Aerie stand-alone stores with four Tailgate Clothing stores, and one Todd Snyder store, taking the total count to 1,047 stores. American Eagle's store count includes the 116 side-by-side Aerie locations.
Article continues below advertisement
For fiscal 2018, the company is looking to open 35–40 Aerie locations (including ten to 15 stand-alone stores) and another 15–20 AE stores. The company will be shutting down five to ten old layout Aerie stores and another ten to 15 AE stores. Capex (capital expenditure) is estimated at $180 million–$190 million compared with $169 million in fiscal 2017. The majority of the budget will be spent on store openings and remodeling, and the remainder will be spent on the development of digital and omnichannel capabilities.
How have its peers performed?
In fiscal 4Q17, Abercrombie & Fitch's (ANF) adjusted EPS came in at $1.38, which was much better than analysts' estimate of $1.10 and 84% higher than fiscal 4Q16. Higher sales, driven by the company's strategic efforts and increases in profits, have resulted in a robust bottom-line performance.
For fiscal 4Q18, Urban Outfitters' (URBN) adjusted EPS of $0.69 beat analysts' estimate of $0.63. Increases in its top line offset its escalating expenses.