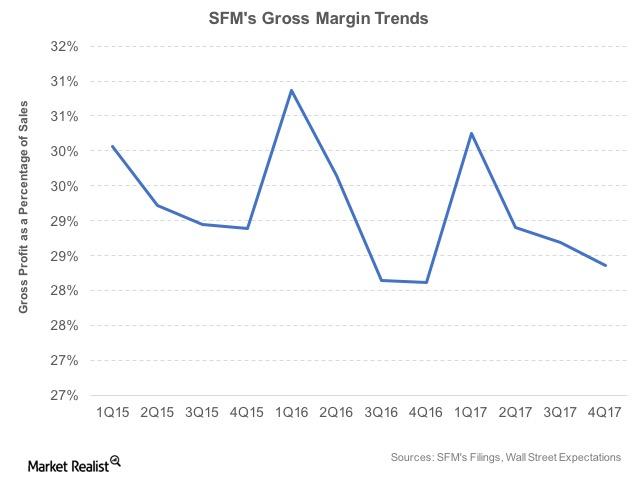 Sprouts Farmers Market Records a 4Q17 Gross Margin Improvement
SFM beats on 4Q17 earnings estimates
As discussed, Sprouts Farmers Market (SFM) reported its 4Q17 results on February 22, 2018. The company's adjusted diluted EPS (earnings per share) rose 23% to $0.16, outdoing Wall Street's expectations by a cent. This growth was driven by higher sales and margins, SFM's stock repurchase program, and a lower tax rate.
SFM's diluted EPS stood at $0.29 after including $18.7 million of the non-cash benefit related to the enactment of the Tax Cuts and Jobs Act.
Other food retailers haven't had great earnings seasons so far. Wholesaler and retailer SuperValu (SVU), which released its results in early January, recorded EPS of $0.31, missing the consensus estimate by a wide margin of $0.15.
Even retailing giant Walmart (WMT) fell short of consensus expectations when it reported its fourth-quarter results on February 20. It reported EPS of $1.33, missing expectations by $0.04.
Article continues below advertisement
What's behind SFM's improving margins?
Sprouts' 4Q17 gross margin expanded 20 basis points to 28.4% of its sales as its gross profit rose 17% to $324 million. "The majority of this increase was due to cycling the heightened promotional environment in the fourth quarter of 2016 in addition to sales leverage on other fixed costs due to higher comps," said Bradley Lukow, Sprouts' chief financial officer, during the company's fourth-quarter earnings call.
Sprouts' 4Q17 EBITDA (earnings before interest, tax, depreciation, and amortization) improved 40 basis points to 5.5% of sales compared to the prior year's period driven primarily by better merchandise margins and labor management.
Full-year view
For 2017 as a whole, there was a 30 basis point contraction in SFM's gross margin to 28.9% of sales, reflecting higher occupancy costs and a competitive environment earlier in the year.
SFM's EBITDA margin contracted 40 basis points to 6.9% of sales, mainly due to a ten-basis-point rise in direct store expenses to 20.6% of sales and a similar increase in SG&A (selling, general, and administrative) expenses to 3.2% of sales.
In 2017, EPS surged 21.7% to $1.01. The company's management expects a similar increase in 2018 EPS. Read the next article to learn about management's guidance for the coming year.
Those looking to invest in SFM through ETFs can choose to invest in the SPDR S&P Retail ETF (XRT). SFM has a weight of ~1.2% in XRT.