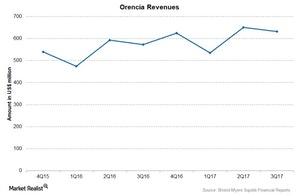 Orencia and Other Brands in 3Q17
By Mike Benson

Dec. 15 2017, Updated 10:32 a.m. ET
Immunoscience portfolio
Orencia, Bristol-Myers Squibb's (BMY) only immunoscience product, is a fusion protein approved for the treatment of moderate-to-severe rheumatoid arthritis and related issues. The drug prevents further damage to bones and joints.
Article continues below advertisement
Orencia revenue
The above chart compares Orencia sales over the last few quarters. Orencia recorded revenue of $632 million in 3Q17, a growth of ~10% from the $572 million seen in 3Q16. The drug's US revenue was $432 million in 3Q17, 12% growth from the $387 million posted in 3Q16. Both US markets and international markets saw growth due to higher demand for the drug.
Other brands
The established brand portfolio includes drugs for virology and other therapeutic areas. Overall revenue for other brands was $539 million in 3Q17, a 2% fall from the $550 million posted in 3Q16. For other brands in 3Q17, international markets reported lower sales, while US markets reported ~7% revenue growth. International revenue fell due to patent expiry across all major markets.
Notably, the Fidelity MSCI Healthcare ETF (FHLC) has a 40.2% exposure to pharmaceutical companies. FHLC has a 2.8% exposure to Bristol-Myers Squibb, a 2.7% exposure to Gilead Sciences (GILD), a 3.5% exposure to Amgen (AMGN), and a 2.3% exposure to Eli Lilly (LLY).