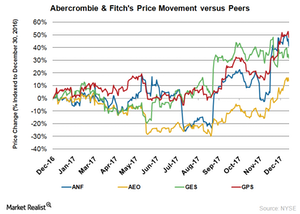 Why Abercrombie & Fitch Stock Is Rising
Impressive stock price movement
After Abercrombie & Fitch's (ANF) troubled beginning to the year, its woes seem to be somewhat abating. On November 17, 2017, it reported strong fiscal 3Q17 results, and since then, as of December 14, 2017, the stock has risen 9.1%. The company beat analysts' expectations for both its top and bottom lines, driven by strategic initiatives.
The good results have also helped Abercrombie & Fitch's stock performance YTD (year-to-date). The stock has risen 41.4% YTD as of December 14, 2017, and is much better than the YTD performances of some of its peers. Over the same period, American Eagle Outfitters (AEO) and Guess (GES) have risen 13.6% and 31.7%, respectively. Gap (GPS) is also seeing its turnaround efforts yield the desired results with its stock rising 47.9% YTD.
Article continues below advertisement
Rise, fall, and turnaround
Under Michael Jeffries, Abercrombie & Fitch's former CEO (chief executive officer), the company initially revived, but later, it began suffering from a huge identity crisis. To make the brand exclusive, Jeffries started targeting teenagers with sexualized advertisements. His approach and controversial remarks drew fire from various quarters.
He was let go in late 2014, but the ripple effect of those mistakes was felt as late as 2016 when the American Customer Satisfaction index rated Abercrombie & Fitch one of the most disliked brands in the United States.
Following Jeffries' ouster, the company started to overhaul its brand image by making it more inclusive. It has also toned down its marketing campaigns and is moving away from its logo-based apparel designs.
Series coverage
In this series, we'll take a look at Abercrombie & Fitch's sales turnaround initiatives as well as the impact on sales and margins. We'll also look at what analysts are recommending for Abercrombie & Fitch stock.