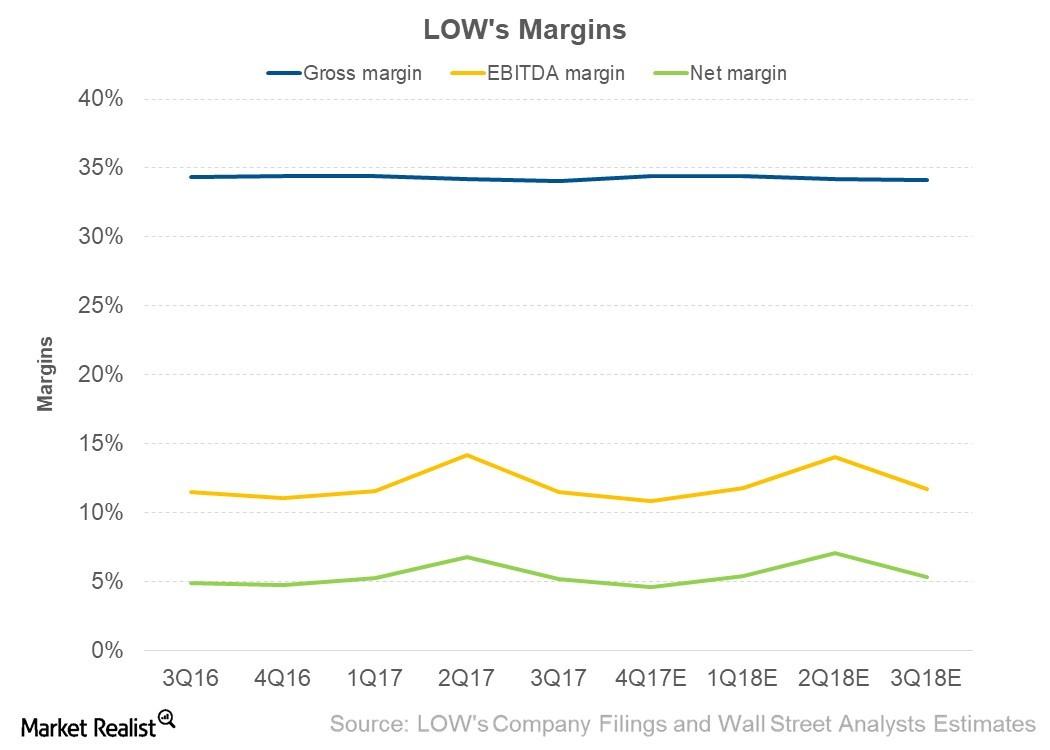 Why Lowe's Net Margins Expanded in 3Q17
3Q17 margins
Lowe's Companies (LOW) posted gross margins, an EBITDA (earnings before interest, tax, depreciation, and tax) margin, and net margins of 34.1%, 14.2%, and 6.8%, respectively, in 3Q17. Comparatively, in 3Q16, these margins were at 34.4%, 11.5%, and 4.9%, respectively.
With a growing market share in appliances, Lowe's gross margins declined due to an unfavorable product mix and rate perspective. Also, hurricane-related sales contributed to lower margins.
Article continues below advertisement
However, during the quarter, the company's SG&A (selling, general, and administrative) expenses fell from 26.0% of the total revenue in 3Q16 to 22.7%. The company had incurred noncash charges of $462 million in 3Q16, which lowered the company's SG&A expenses by 2.9% of total revenue in 3Q17. Also, the implementation of a new store leadership model lowered labor expenses by 0.3%.
During the quarter, the company's D&A (depreciation and amortization) expenses declined by 0.5% while interest expenses declined by 0.1%. All these factors, along with a lower effective tax rate, drove the company's net margins. The company's effective tax rate was at 37.1%, compared to 51.2% in 3Q16.
Outlook
For the next four quarters, analysts expect Lowe's to post a gross margin, EBITDA margin, and net margin of 34.3%, 12.2%, and 5.7%, respectively. In the corresponding four quarters of the previous year, these margins were 34.3%, 12.1%, and 5.5%, respectively.
Next, we'll look at Lowe's 3Q17 EPS.