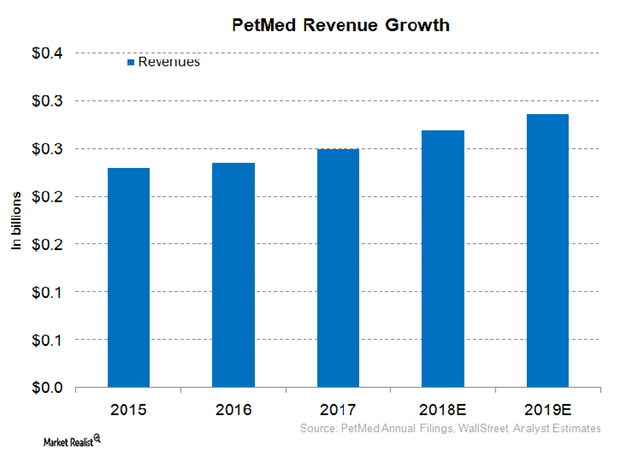 New Customer Acquisition Drives Revenue Growth for PetMed Express
By Kenneth Smith

Nov. 14 2017, Updated 9:02 a.m. ET
New customer acquisition
PetMed Express (PETS) acquired 134,000 new customers in fiscal 1Q18[1. fiscal 1Q18 ended June 30, 2017] compared with 131,000 new customers for fiscal 1Q17. The company's total customer base has increased from 7.5 million in 2013 to 9.6 million in 2017, a solid 28.0% increase.
PetMed Express's primary focus of customer acquisition is through advertising. As a percentage of sales, the company's advertising expenses totaled 7.9% for fiscal 1Q17 and fiscal 1Q18.
PetMed Express's (PETS) advertising expenses rose 9.0% from $5.8 million in fiscal 1Q17 to $6.3 million in fiscal 1Q18. The advertising costs of acquiring a new customer, defined as total advertising costs divided by new customers acquired, totaled $34.00 for fiscal 2Q18.
The company expects its advertising costs to increase in the remaining part of fiscal 2018, reaching 7.0%–8.0% of its sales for fiscal 2018. This cost fluctuates from quarter to quarter due to seasonality and the advertising environment.
Article continues below advertisement
Revenue growth projections
Analysts expect PetMed Express to report revenues of $269.3 million for fiscal 2018, an increase of 8.1% over revenues of $249.2 million for fiscal 2017. In 2018, PetMed's peers Zoetis (ZTS), Patterson (PDCO), and Rite Aid (RAD) are expected to report revenues of $5.1 billion, $5.6 billion, and $29.4 billion, respectively.
PetMed Express's sales rose 9.7% year-over-year (or YoY) to $76.7 million in 2Q18. The increase in sales was primarily due to the rise in new orders and reorder sales. The company's management noted that sales may have been affected during this period due to Hurricanes Harvey, Irma, and Maria.
Online sales
In 2017, the PetMed Express (PETS) website attracted ~32.0 million visitors, ~8.0% of whom placed an order for a conversion ratio of ~25.0%. Approximately 84.0% of all sales were generated online for fiscal 2Q18 compared with 82.0% in fiscal 2Q17.
Sales consist of products sold mainly to retail customers. The average purchase value stands at ~$85.00 per order, a figure that has been steadily improving.
PetMed Express comprises ~0.04% of the iShares Russell 2000 ETF's (IWM) total portfolio holdings.
In the next part of this series, we'll take a look at the key factors affecting PetMed Express's margins.