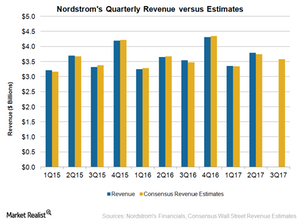 Can Nordstrom's Revenue Continue to Improve in Fiscal 3Q17?
Improvement in top-line growth
Nordstrom (JWN) exceeded analysts' revenue expectations in fiscal 1Q17 and 2Q17. In fiscal 2Q17, which ended on July 29, 2017, its revenue of $3.79 billion exceeded the consensus analyst revenue estimate of $3.75 billion. That was a 3.9% growth on a year-over-year basis, which was an improvement compared to 3.2% growth in fiscal 1Q17 and a 1.4% decline in fiscal 2Q16.
Article continues below advertisement
Performance in the previous quarter
Nordstrom's revenue includes its retail sales and credit card revenue. Retail sales, which account for 98% of overall revenue, rose 3.5% to $3.7 billion in fiscal 2Q17. Net credit card revenues rose 28.8% to $76 million in fiscal 2Q17.
The retail segment is comprised of the company's full-line and off-price businesses. Sales for its full-line business, which includes Nordstrom full-line stores in the United States and Nordstrom.com, rose 1.7% to $2.7 billion in fiscal 2Q17. The growth was primarily driven by the company's online channel. Its full-line stores in the United States continued to struggle and reported a 4.6% fall in sales.
The company's off-price business generated sales of $1.2 billion, reflecting a 9.8% growth in fiscal 2Q17. The business is comprised of Nordstrom Rack stores, Nordstromrack.com, and HauteLook. Sales for Nordstrom Rack stores rose 6.9% in fiscal 2Q17, driven by new store sales.
Growth expectations
Analysts expect Nordstrom's revenue to rise 1.1% to $3.6 billion in fiscal 3Q17, which ended on October 28, 2017. They expect Macy's (M) and Kohl's (KSS) to fall 5.6% and 0.7%, respectively, in their fiscal 3Q17 sales.
The third quarter is an important quarter for department stores since it includes the important back-to-school season. However, intense rivalry from online retailers such as Amazon (AMZN) and off-price retailers such as TJX Companies (TJX) is expected to adversely impact the top-line growth for department stores.
Next, let's look at Nordstrom's margins.