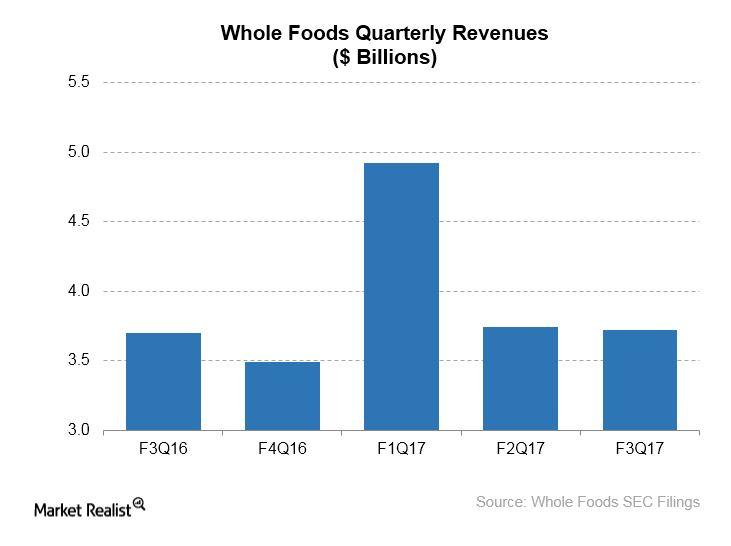 What's Amazon's Plan for Whole Foods?
By Ruchi Gupta

Sep. 12 2017, Updated 10:37 a.m. ET
Amazon cuts food prices
When Amazon (AMZN) announced in June that it was acquiring Whole Foods (WFM) for $13.7 billion, little was known about its intentions for the organic foods retailer. Now, Amazon's plans for Whole Foods are starting to emerge.
As soon as Amazon received regulatory approval to close the acquisition of Whole Foods, it announced price cuts on some of the popular grocery items sold at Whole Foods stores. The chart below shows Whole Foods' revenue trend line over the last five quarters.
The announcement rattled grocery stocks as Amazon appeared to say that it would spare no effort to go for the ~$800 billion US (SPY) grocery market. 
Traditional retailers such as Walmart (WMT), Kroger (KR), and Costco (COST) have had the upper hand in the grocery sector because most consumers prefer to shop at locations where they can inspect food before they buy it.
Article continues below advertisement
Amazon going for grocery budgets
With the price cut and Whole Foods' 460 retail locations, Amazon sees an opportunity to bolster its grocery competition.
In addition to cutting prices on Whole Foods items, Amazon is also extending Prime membership as a customer reward program for Whole Foods shoppers. This move is likely to encourage Prime subscribers to spend more on purchases on Amazon properties.
Consumer Intelligence Research Partners (or CIRP) estimates that Prime subscribers spend on average $1,300 per year on Amazon.com shopping, which is almost double what regular shoppers spend on the site.
Amazon's viewpoint of food price cuts
Amazon ties its move to cut prices on Whole Foods items in an effort to make healthy and organic food available to everyone. The perception of high food prices has served to keep many consumers away from Whole Foods locations. The price cut and the Prime rewards program could help Amazon draw more shoppers to Whole Foods stores, driving more sales.