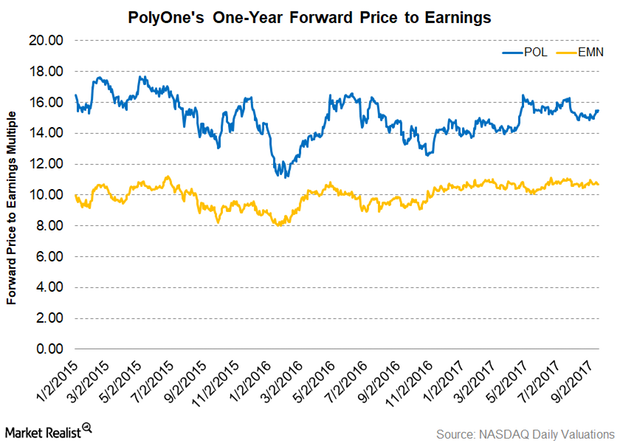 PolyOne's Valuation Compared to Its Peers
PolyOne's forward PE
A forward PE multiple is one of several valuation metrics investors use to compare two or more companies operating in the same industry and check which company is overvalued and which company is undervalued.
Article continues below advertisement
Is PolyOne overvalued?
At present, PolyOne is trading at a premium compared to EMN. POL has had a mixed earnings season so far. After reporting better-than-expected 1Q17 earnings, it reported a net loss of $2.20 per share, driven by the sale of its Designed Structures and Solutions business. However, for fiscal 2017, analysts are expecting POL to post EPS (earnings per share) of $2.21, a rise of 3.8% over its fiscal 2016 EPS. With POL acquiring Rutland and Mesa, analysts forecast POL's fiscal 2018 EPS to be $2.49, a rise of 12.7% over the expected EPS for fiscal 2017.
Analysts are expecting EMN to post an 11.2% EPS growth in fiscal 2017. They are projecting its fiscal 2018 EPS to be $8.15, an 8.4% rise over fiscal 2017. With PolyOne's fiscal 2018 projected EPS growth higher than EMN's, POL is trading at a premium to EMN.
Investors looking to hold POL indirectly can invest in the First Trust Mid Cap Value AlphaDEX ETF (FNK), which has invested 0.40% of its portfolio in POL. The other top holdings of the fund include Urban Outfitters (URBN), Dana Holding (DAN), and Owens Corning (OC) with weights of 0.90%, 0.90%, and 0.80%, respectively, as of September 15, 2017.