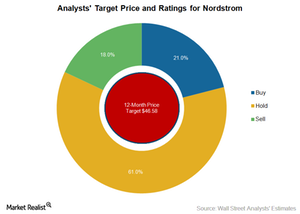 What Analysts Recommend for Nordstrom Stock
Current ratings
As of September 15, Nordstrom's (JWN) stock was rated a "hold" by 61%, or 17 out of 28 analysts. Six analysts have a "buy" rating and five analysts have a "sell" rating. On September 13, Gordon Haskett downgraded Nordstrom stock to "hold" from "accumulate."
Article continues below advertisement
Consensus "hold" rating
The majority of analysts have a consensus "hold" rating for Nordstrom stock. Nordstrom has been delivering a better revenue growth rate than peers like Macy's (M) and Kohl's (KSS). However, the company's full-line stores continue to struggle in a market where online retailers like Amazon (AMZN) are becoming dominant. Stiff competition from off-price retailers like TJX Companies (TJX) is also a matter of concern.
As discussed previously in this series, Nordstrom is taking several initiatives to improve its top line. However, investments associated with its growth initiatives including those to support its online channels, are putting pressure on the company's bottom line. Nordstrom is contemplating going private as we discussed in this series. Moving out of the public markets might allow the retailer to focus more on its growth strategies to survive in a tough retail market.
Nordstrom has been strengthening its online channels to boost its sales. The company has also been expanding its off-price Nordstrom Rack store network. The overall net sales of Nordstrom Rack stores rose 6.9% to $1.9 billion in 1H17 but the same-store sales of Nordstrom Rack stores were down 0.9% on a year-over-year basis. Same-store sales growth measures the change in sales of the existing stores of a retailer, excluding the impact of stores opened or closed during a certain period. The decline in the same-store sales of Nordstrom Rack stores reflects the pressure that even the company's off-price business is facing.
As of September 15, the average 12-month price target for Nordstrom's stock was $46.58.
For more updates, visit Market Realist's Department Stores page.