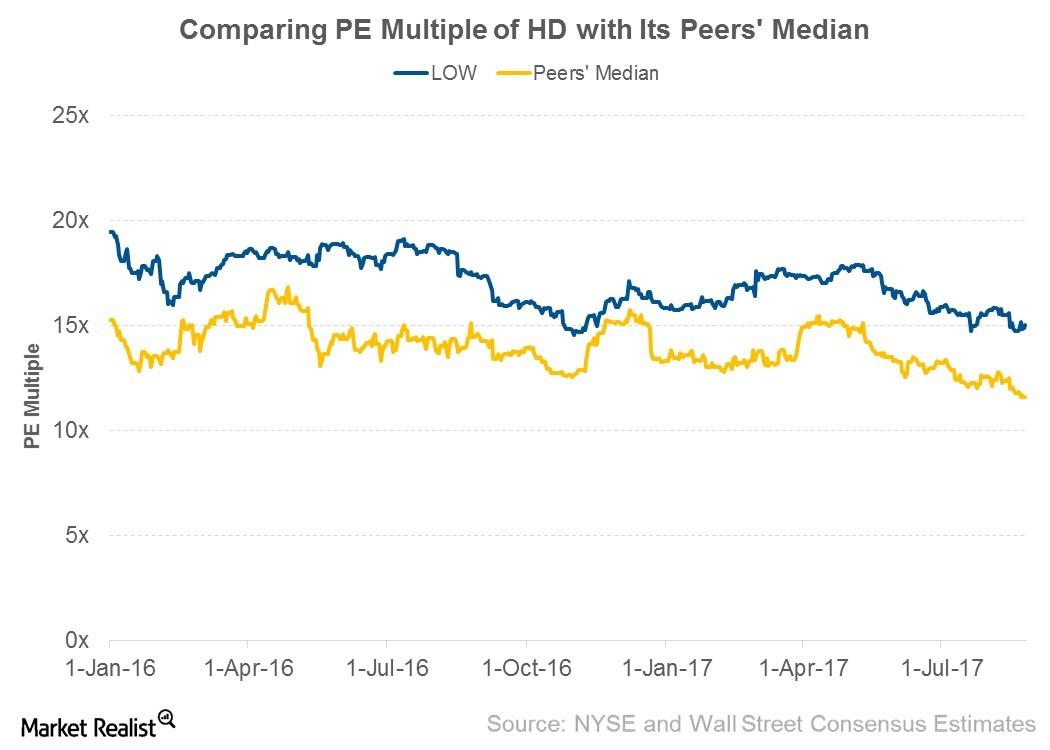 Why Did Lowe's Valuation Multiple Fall after 2Q17 Earnings?
Valuation multiple
Due to the high visibility in Lowe's Companies' (LOW) earnings, we have opted to use the forward PE multiple. The forward PE multiple is calculated by dividing the company's stock price from analysts' earnings estimate for the next four quarters.
Article continues below advertisement
Lowe's PE multiple
Lowe's lower-than-expected 2Q17 earnings and lowered EPS guidance could have made investors skeptical about the company's future earnings, leading to a fall in its stock price and forward PE multiple. As of August 25, 2017, Lowe's was trading at 15.1x compared to 15.2x. After the weak 2Q17 results, analysts have lowered their EPS estimates for the next four quarters from $4.97 to $4.82, which has offset some of the declines.
From the above graph, we can see that Lowe's has been trading above its peer valuation multiple. As the second-largest home improvement retailer in the world, Lowe's enjoys higher margins and greater prospects to grow. On the same day, Lowe's peers Home Depot (HD), Williams-Sonoma (WSM), and Bed Bath & Beyond (BBBY) were trading at 19.0x, 12.2x, and 7.0x, respectively.
Article continues below advertisement
Growth prospects
To drive its same-store sales growth, Lowe's is increasing its investments in marketing and customer-facing services. The company is also focusing on enhancing customers' integrated omnichannel experience, offering competitive pricing, increasing the breadth of assortment, and implementing same or next-day delivery services to drive its sales. Also, the acquisition of Central Wholesalers and Maintenance Supply Headquarters is expected to expand the company's capabilities to serve multifamily property management customers. These initiatives have increased the company's expenditures. If these initiatives fail to generate expected sales, the increased expenses could put pressure on the company's earnings.
For the next four quarters, analysts are expecting Lowe's to post EPS growth of 11.1%, which could have been factored into Lowe's current stock price. If Lowe's earnings come in lower than analysts' estimates, then the selling pressure could bring the company's stock price and its valuation multiple down.
Next, we will look at analysts' recommendations for Lowe's.