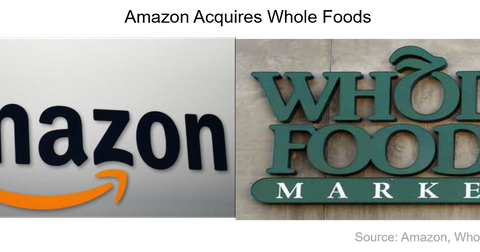 Exploring Amazon's Acquisition of Whole Foods
By Sonya Bells

Updated
About the deal
On June 16, 2017, Amazon (AMZN), the world's largest diversified online retailer, announced its intention to acquire Whole Foods Market (WFM) for $13.7 billion in an all-cash transaction.
Amazon agreed to pay $42 per share for Whole Foods, representing a 27% premium on the organic food retailer's previous day's closing price.
The deal was made on an EV-to-EBITDA (enterprise value to earnings before interest, tax, depreciation, and amortization) ratio of ~10.6x, based on WFM's trailing-12-month earnings and $42 share price offer.
Article continues below advertisement
The buyer's perspective
Amazon's Whole Foods acquisition is its biggest deal to date. It will mark the online juggernaut's entry into the brick-and-mortar retail space. Amazon could turn Whole Foods stores into distribution hubs and pickup centers for its online grocery orders.
The seller's perspective
WFM has been struggling with falling comps and contracting margins for some time. The retailer's deal with Amazon could provide it with the much-needed strength to survive in an intensely competitive grocery market. Amazon's technology and vast consumer base could take Whole Foods to new heights.
The deal set Whole Foods' stock price on fire and took billions of dollars away from the market caps of other retailers. Read more about Whole Foods' stock market performance in the next article.
When is the deal expected to reach a conclusion?
The AMZN-WFM deal is expected to close by the end of 2017. It still needs regulatory and shareholder approvals.
On July 17, 2017, the United Food and Commercial Workers Union filed a complaint against the deal to antitrust enforcers, citing concerns about job cuts and a rise in competition for smaller shops.
"Amazon's reach will ultimately reduce the number of grocery competitors that consumers can choose from," said Marc Perrone, president of the United Food and Commercial Workers International Union, in the complaint.
He added, "Regardless of whether Amazon has an actual Whole Foods grocery store near a competitor, their online model and size allows them to unfairly compete with every single grocery store in the nation."
Investors looking for exposure to Amazon and Whole Foods Market can choose to invest in the VanEck Vectors Retail ETF (RTH). RTH invests 17.7% in Amazon and 2.3% in Whole Foods.