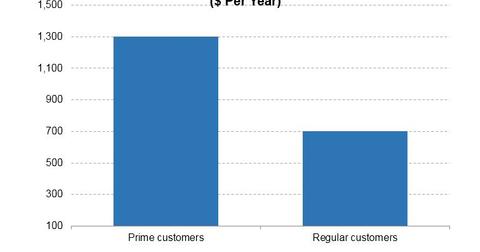 Amazon's Strategy behind the Whole Foods Acquisition
By Neha Gupta

Updated
Amazon doesn't reveal plans for Whole Foods
Amazon (AMZN) is acquiring Whole Foods (WFM) for $13.7 billion, and its plans for the high-end organic grocery retail remain a well-guarded secret—at least for now. The company didn't discuss its strategy when it announced the deal last month.
While Amazon's plans for Whole Foods aren't clear, one way to understand the acquisition is to view it along the line of the investments Amazon is making in video content. The Whole Foods acquisition could be part of Amazon's strategy to increase the appeal of its Prime membership program.
Article continues below advertisement
Amazon paying billions for videos it offers for free
This year, Amazon is expected to spend $4.5 billion on video content acquisitions, according JPMorgan Chase (JPM). In comparison, Netflix's (NFLX) content budget is $6.0 billion. While Netflix charges its subscribers a monthly fee to access its video library, Amazon spends billions of dollars on films and shows that it offers free of charge to Prime subscribers, who pay $100 per year for a membership. Entertainment is only one of the perks that Prime members enjoy. Other benefits include unlimited cloud photo storage and free shipping on millions of items they can buy on Amazon.com.
Prime shoppers are heavy spenders on Amazon.com
Prime customers spend significantly more on Amazon shopping than its regular customers, according to Consumer Intelligence Research Partners (or CIRP). Therefore, Amazon is driven do everything it can to draw more shoppers to the Prime service and improve the program's subscriber retention. Whole Foods could help do that. According to Morgan Stanley (MS), about 62% of people who shop at Whole Foods are also members of Amazon's Prime program.
This overlap provides several opportunities for Amazon. Namely, it could use the overlap to boost Prime subscriber retention, and it allows Amazon to gain a larger share of the retail budget of its Prime customers.