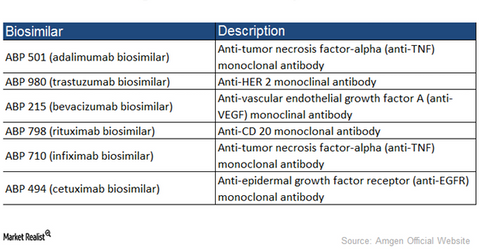 Biosimilars Could Become a Key Long-Term Growth Driver for Amgen
By Daniel Collins

Updated
Long-term growth driver
According to a March 2016 report by QuintilesIMSHealth, the biologics market is estimated to reach $390 billion by 2020. Biologics is also expected to account for nearly 28% of the global pharmaceutical market in 2020.
Owing to lower relative prices, biosimilar versions of the drugs may be preferred by physicians, patients, and payers compared to original biologics. With major blockbuster biologics going off-patent over the next decade, the biosimilars market is expected to witness strong growth trends.
According to a 2015 report by Deloitte, the global biosimilar market is expected to be worth $25 billion–$35 billion by 2020. The chart above gives a snapshot of Amgen's (AMGN) biosimilar pipeline.
Article continues below advertisement
Biosimilars portfolio
Amgen's (AMGN) strategic entry into biosimilars market is believed to make it a leader in this segment. Most of the biosimilars in Amgen's pipeline could be less expensive versions of blockbuster biologics and could have a large addressable market size. 
With six biosimilars in the clinical pipeline and three in the product development stage, the company has an extensive biosimilar product portfolio. The company's high brand value, its research and development experience, and its impending loss of exclusivity of its blockbuster biologics from originator companies should help Amgen obtain a considerable share in the biosimilars market.
Amgen's Amgevita, a biosimilar of Abbvie's (ABBV) Humira, received FDA approval in September 2016. Roche Holdings' (RHHBY)[1. through its subsidiary Genentech] blockbuster biologic Avastin (bevacizumab) is expected to face the loss of its US patent exclusivity in 2018. 
If Amgen can market ABP 215, a bevacizumab biosimilar, immediately after the loss of Avastin's patent exclusivity, the company can obtain significant market share. Amgen's peers in the biosimilars market include Pfizer (PFE), Mylan (MYL), Sandoz, and Teva Pharmaceuticals (TEVA).
The launch and success of biosimilars are expected to support Amgen stock and the iShares Nasdaq Biotechnology ETF (IBB). Amgen makes up ~7.3% of IBB's total portfolio holdings.
In the next article, we'll discuss Amgen's thrombopoietin receptor agonist Nplate and epidermal growth factor receptor (or EGFR) antagonist monoclonal antibody, Vectibix.