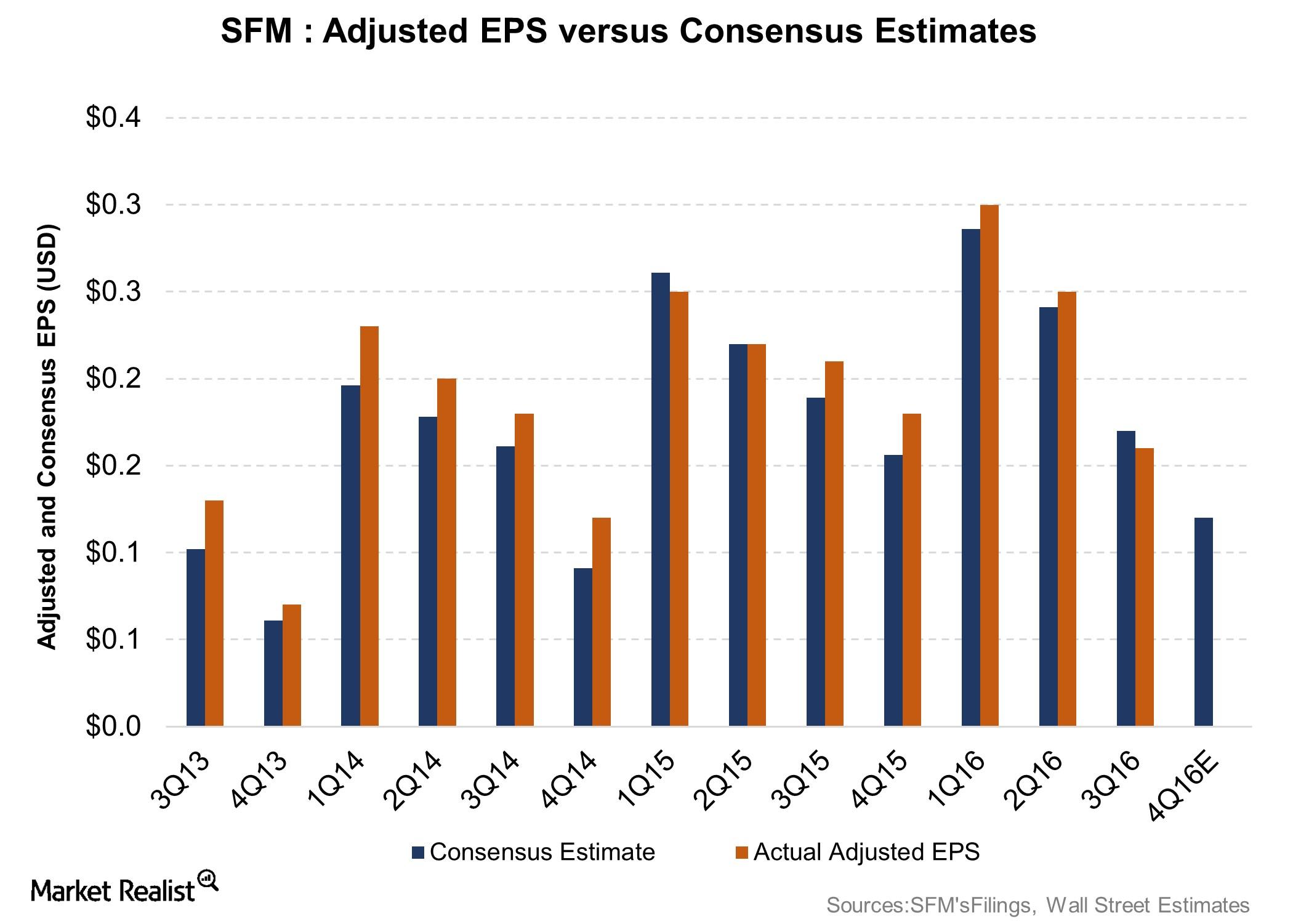 Sprouts Likely to Witness a Steep Fall in 4Q16 Earnings
Sprouts Farmers Market's 4Q16 results preview
Phoenix-based Sprouts Farmers Market (SFM) is slated to release its financial results for 4Q16 and 2016 before the market opens on Thursday, February 23, 2017. The results relate to the three-month period ending January 1, 2017.
In 3Q16, the company beat revenues but fell short of Wall Street's earnings forecasts. EPS fell 24% YoY (year-over-year) to 16 cents, missing the consensus by a cent. Revenue rose 15% YoY to $1 billion, around $30 million more than the consensus estimates.
For the fourth quarter, the consensus is predicting a 33% YoY decline in the company's EPS to 12 cents a share. Revenue is expected to rise 4.9% YoY to $976 million, making it the slowest growth quarter since the company was listed in 2013.
Article continues below advertisement
About Sprouts Farmers Market
Established in 2002, Sprouts Farmers Market (SFM) operates as a value-oriented healthy grocery store and offers fresh, natural, and organic food. The company operates 250 stores in 13 US states as of October 2016. It follows a small-box format with an average store size of 28,000 to 30,000 square feet, about half the size of Whole Foods (WFM) stores and one-third the size of Kroger's (KR) combination stores.
Valuations overview
SFM is currently trading at a one-year forward earnings multiple of 21.5x, operating close to the lower end of its 52-week price-to-earnings (or PE) range of 20.3x–30.5x.
The company continues to trade at a premium to supermarket chains Kroger (KR) and Supervalu (SVU), which are valued at 15.6x and 10.0x, respectively. It, however, trades at a slight discount to Whole Foods Market (WFM), which is currently valued at 22.8x.
Investors who want to invest in SFM through ETFs can choose to invest in the iShares Morningstar Small-Cap Growth ETF (JKK). SFM makes up ~0.45% of JKK.
What's in this series?
In this series, we'll look at what investors can expect from SFM's 4Q16 and full fiscal 2016 results. We'll talk about the company's year-to-date financial performance, the company's guidance, and Wall Street estimates for the fourth quarter. We'll also briefly touch on SFM's stock market performance, current valuations, and Wall Street's recommendations.