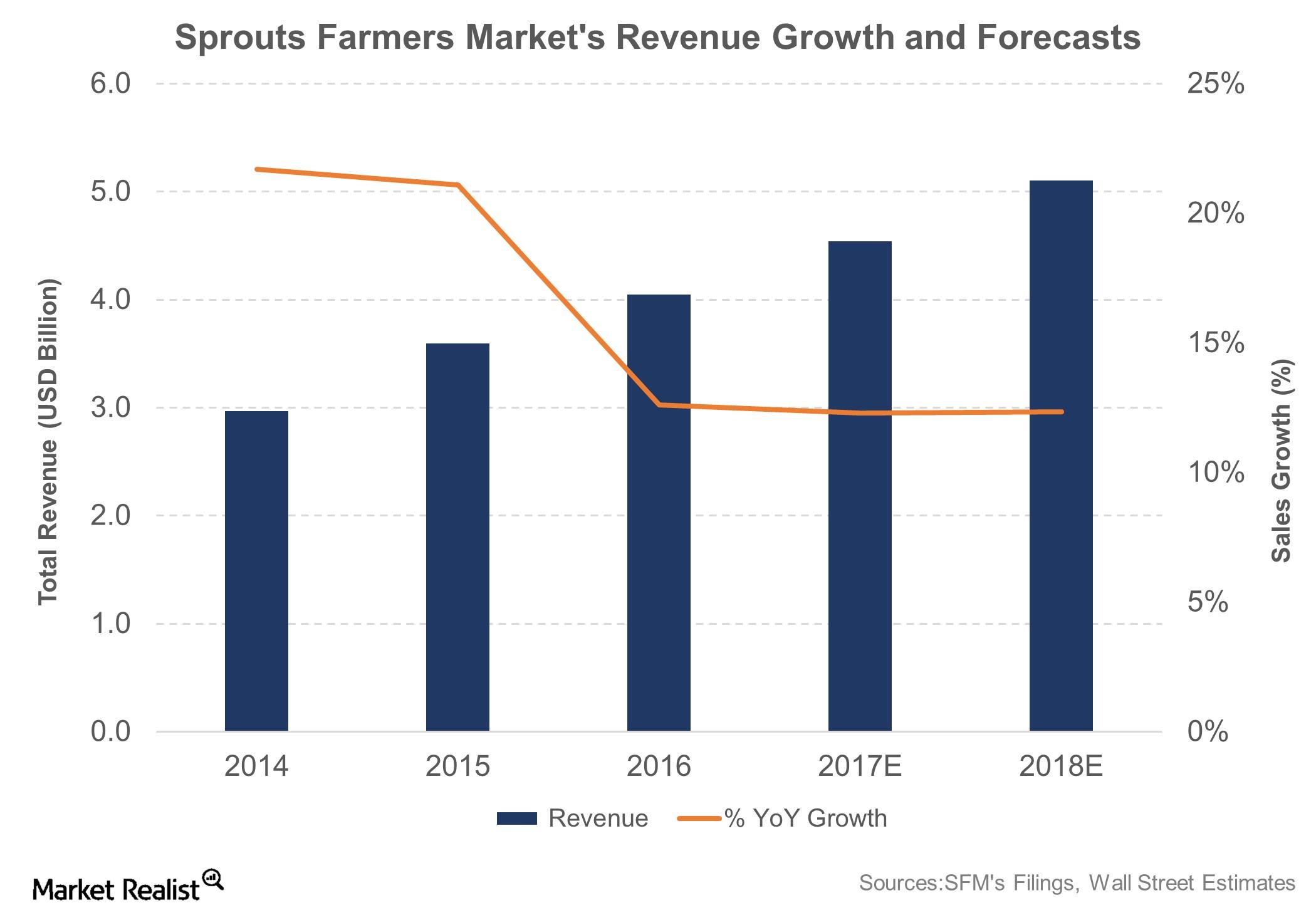 Despite Challenges, SFM Delivered Industry-Leading Growth in 2016
Fiscal 2016 top line rises 13%
Despite ongoing deflationary headwinds throughout 2016, Sprouts Farmers Market (SFM) delivered industry-leading top line growth in 2016.
The company's total sales rose 13% to $4 billion during the year. On a 52-week basis, its sales rose 15% YoY (year-over-year), compared to the trailing-12-month top line growths of 1.7%, 4.6%, and -5.3% for Whole Foods Market (WFM), Kroger (KR), and SUPERVALU (SVU), respectively.
Article continues below advertisement
"The Sprouts team delivered industry leading 15% sales growth for the year and positive same store sales in a year significantly impacted by deflationary pressures," said Amin Maredia, CEO of Sprouts Farmers Market. Its sales comps rose 2.7% during the year, better than the 2%–2.5% guidance provided by the company.
The company opened 36 new stores during the year, representing a 17% rise in its total store count.
Bottom line falls 7.6% on lower gross margin, higher costs
Sprouts' bottom line, however, fell 7.6% YoY to $124 million as the company reported a 10-basis-point fall in its gross margin along with a 19% rise in SG&A expenses and a 17% rise in direct selling costs during the year. Its diluted adjusted EPS (earnings per share) stood at $0.83, 3.5% lower than the previous year. The company had guided for an EPS range of $0.83–$0.86 range for the year.
Looking ahead
SFM's management expects it 2017 top line to rise 12%–13%, as it plans to open 32 new stores during the year. It also expects its comps to grow in the 0%–1% range.
The company's diluted EPS are likely to lie in the $0.86–$0.90 range. At the midpoint, this would imply a rise of 6% YoY.
Investors looking to invest in SFM through ETFs could choose to invest in the First Trust Consumer Staples AlphaDEX ETF (FXG). SFM has a weight of ~0.82% in FXG.