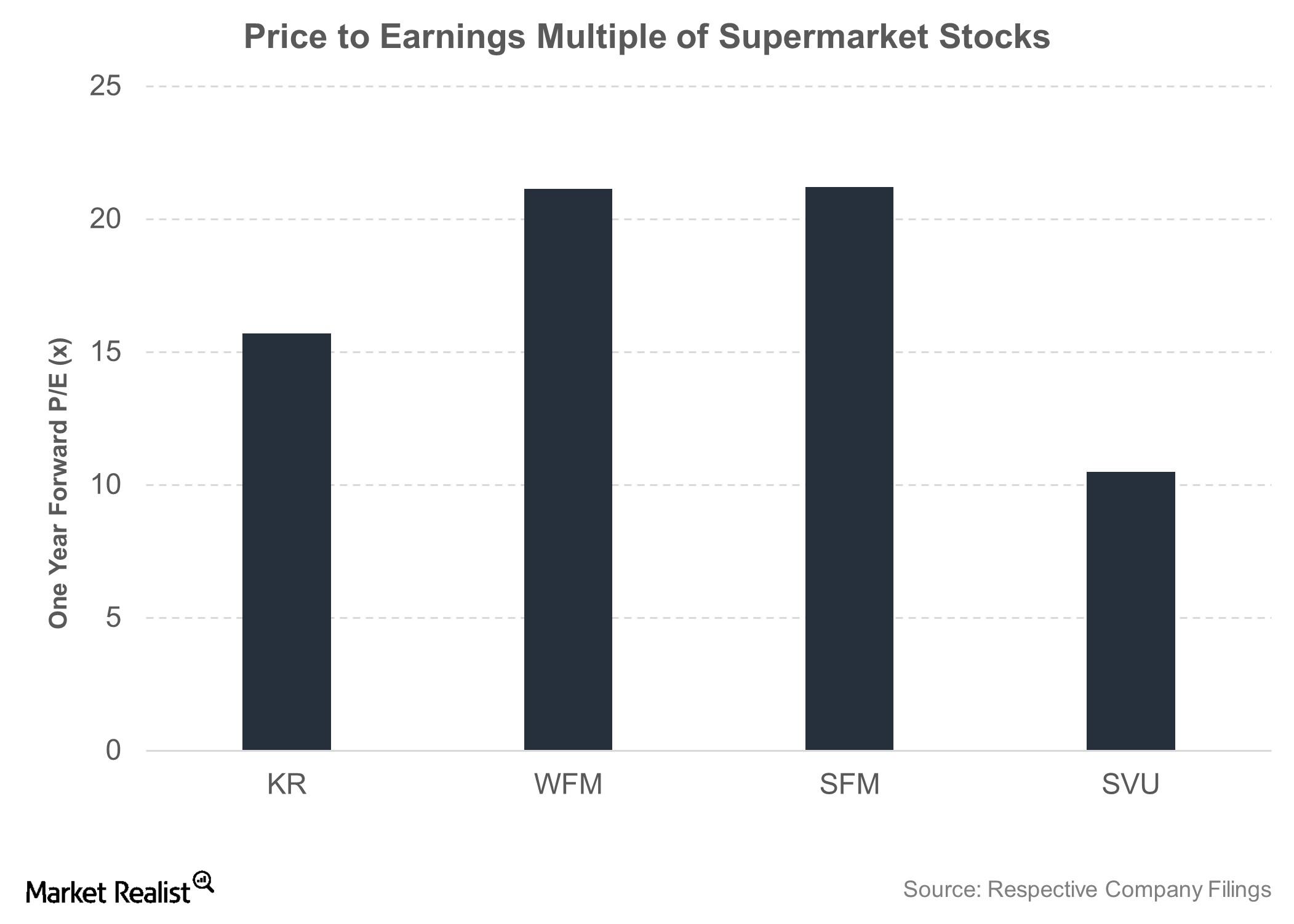 Comparing Supermarket Stocks: Which Is a Better Buy?
Comparing Supermarket valuations
Valuations of most supermarkets have taken a hit as the companies have been severely punished in the stock markets for their poor financial performance and bleak outlooks.
Kroger (KR), the largest supermarket chain in the United States, traded at an average price to earnings ratio of 16x in 2016 compared to an average of ~20x in 2015. Currently, the company is trading at a one-year forward PE of 15.6x.
Sprouts Farmers Market (SFM), which traded at an average price-to-earnings ratio of 38x in 2015, is currently trading 21 times the next 12 months' earnings. The company is operating toward the lower end of its 52-week PE range of 20.3x to 30.5x.
Article continues below advertisement
Supervalu (SVU), however, has been operating on the higher side of its PE range. The company hit the upper end of its one-year forward P/E ratio of 10.5x on January 12, 2017. Its valuations have surged since the sale of its Save-A-Lot business toward the end of 2016. The company, however, remained the cheapest in the peer group.
Whole Foods Market (WFM) has maintained its "expensive" status despite delivering poor financial performance over the past several quarters. The company is currently trading at ~21x on next 12 months' earnings.
So, which supermarket is a good purchase right now?
Probably, Sprouts Farmers Market! The company, although expensive to peers, is operating closer to the lower side of its historical PE. Also, it has better earnings potential. Its EPS are expected to grow 3.4% over the next 12 months, compared to a marginal decline of 0.5% for Kroger and a 7.1% fall for Whole Foods.
Plus, as we discussed in the previous article, the company is Wall Street's favorite in the group. The majority of analysts have recommended buying the stock, as its stock price is expected to rise 25% over the next year.
Kroger is also worth mentioning. The company has survived through several weak periods in the past. Its same-store sales (ex-fuel) have stayed positive for 52 consecutive quarters, a record that remains unmatched in the food retail space. As the deflationary phase ends, the company might get back to its steady growth trajectory.
Investors looking for exposure to Kroger or Sprouts Farmers Market through ETFs can consider the First Trust Consumer Staples AlphaDEX (FXG), which invests 3.3% of its portfolio in the two companies.