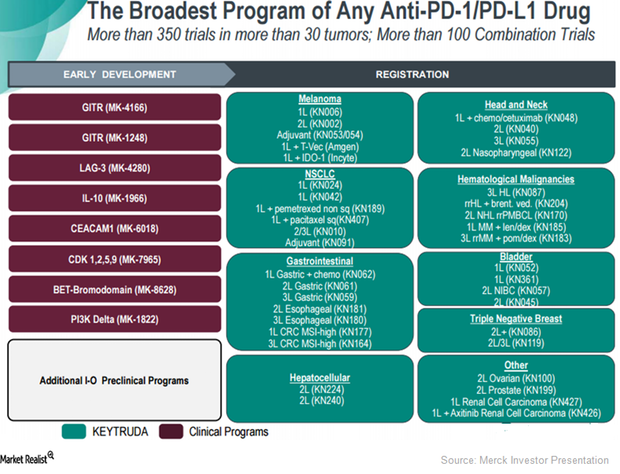 What Could Expand Keytruda's Revenues?
By Margaret Patrick

Dec. 4 2020, Updated 10:52 a.m. ET
Geographic market expansion
In addition to the US market, Merck's (MRK) Keytruda has been approved in more than 50 international markets for metastatic melanoma. It has been approved in more than 30 international markets for lung cancer. On August 2, 2016, the European Commission approved Keytruda as therapy for second-line NSCLC (non-small cell lung cancer) patients with tumors expressing PD-L1 protein at all levels.
The regulatory approval allows Merck to market Keytruda in 28 countries in the European Union. However, Merck only expects to witness strong uptake of the drug in the European market after it successfully completes reimbursement-related negotiations in all of the countries. Keytruda will enable Merck to pose strong competition to other lung cancer players such as Roche Holdings (RHHBY), Pfizer (PFE), and Bristol-Myers Squibb (BMY).
Keytruda is also approved by regulatory authorities in Japan as advanced melanoma therapy as well as a treatment option for NSCLC, both for first-line as well as second-line patients.
Article continues below advertisement
Label expansion
The above chart shows the multiple oncology indications for which Keytruda is being explored for by Merck.
Keytruda was approved as first-line NSCLC therapy by the FDA based on positive results from the Phase 3, KEYNOTE-024 study. The drug is only approved for patients whose tumors express PD-L1 protein at 50% or higher levels and who don't have abnormal mutations of EGF receptor or ALK genes. In KEYNOTE-024, it was demonstrated that in the targeted patient population, Keytruda is more effective than platinum-based chemotherapy which is first-line NSCLC standard of care. Keytruda also demonstrated a better safety profile compared to chemotherapy. The label expansion might be a strong revenue growth driver for Keytruda.
On August 5, 2016, Keytruda was also approved by the FDA as second-line therapy for recurrent or advanced head and neck cancer.
Based on data obtained from the KEYNOTE-021 cohort G study, Merck concluded that Keytruda in combination with platinum-based chemotherapy is superior in treating metastatic non-squamous NSCLC with tumors expressing PD-L1 protein compared to chemotherapy alone. The company is exploring Keytruda in combination with traditional chemotherapy agents for multiple cancers.
Merck also obtained positive results from the KEYNOTE-045 study, which explored the use of Keytruda as a treatment option for second-line urothelial cancer.
Geographic market expansion and label expansion are expected to boost Keytruda's sales in the future. It might have a positive impact on Merck's share prices as well as the iShares Core S&P 500 ETF (IVV). Merck accounts for ~0.84% of IVV's total portfolio holdings.
In the next part, we'll discuss trends that will have a positive impact on Keytruda's position in the oncology market.