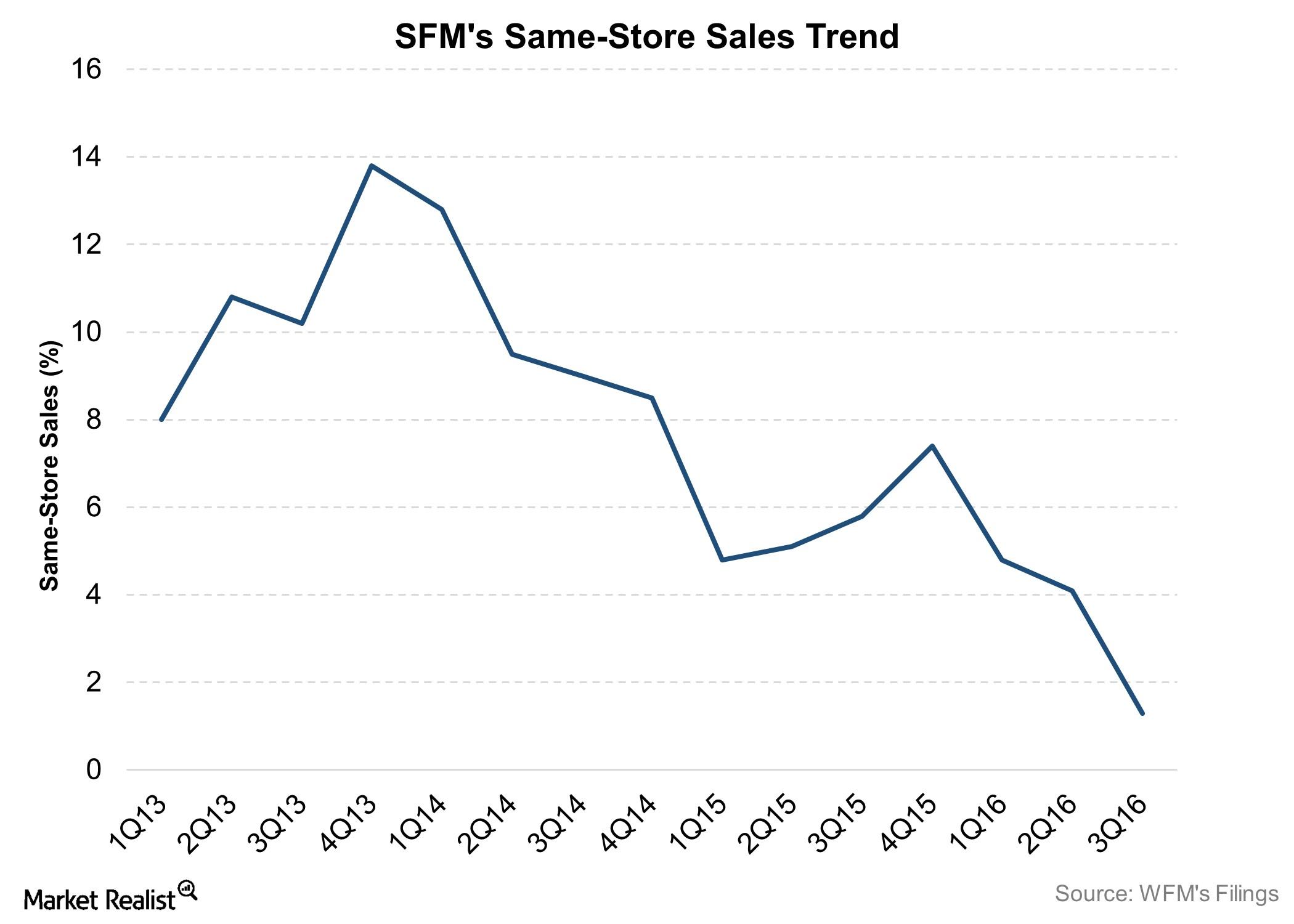 Why Sales Comps Continue to Face Deflationary Headwinds
Top line rose 15%
Sprouts Farmers Market (SFM) reported a 14.7% YoY (year-over-year) increase in sales to $1 billion in 3Q16. The growth was driven by a 1.3% increase in sales comps and strong new store productivity, which stood above 80% during the quarter.
While talking about the company's performance in the first quarter, Amin Maredia, Sprouts Farmers Market's CEO, commented, "The Sprouts team delivered 15% sales growth, strong new store performance and our 38th consecutive quarter of positive same store sales, all despite a highly deflationary and competitive environment," said Amin Maredia, chief executive officer of Sprouts Farmers Market."
Article continues below advertisement
Sprouts Farmers Market's sales growth is particularly impressive compared to other supermarket peers. Whole Foods Market (WFM) reported its results the day before Sprouts Farmers Market. It reported top line growth of 1.7%. Kroger (KR) reported a sales increase of 4%, while Supervalu (SVU) reported a sales decline of more than 4% in the last reported quarter.
What's behind the drop in sales comps?
Sprouts Farmers Market reported its 38th consecutive quarter of positive sales comps in 3Q16. However, the current quarter recorded the lowest comps of 1.3% since the company was listed in July 2013. Lower comp sales were a result of persistent deflation, which created a promotional environment in the retail food space. Sprouts Farmers Market's sales comps were also impacted by higher cannibalization among its stores.
Kroger, Supervalu, and Whole Foods also reported a slowdown in comps in their last reported quarters. Kroger witnessed a slowdown in comps to just 1.7%—compared to an average of 4.3% in the last 24 quarters. Whole Foods Market, which once displayed industry-leading comps, has been in the red for the last five quarters.
Investors looking to invest in Sprouts Farmers Market through ETFs can choose to invest in the First Trust Consumer Staples AlphaDEX Fund (FXG). Sprouts Farmers Market accounts for ~0.88% of FXG.
In the next part, we'll discuss the company's margins and profitability in 3Q16.