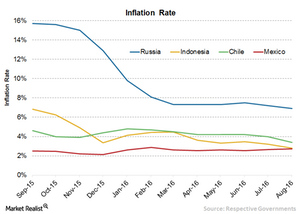 Opportunities Abound in Other Emerging Markets
By VanEck

Sep. 26 2016, Updated 7:04 p.m. ET
There were also positive developments in August. Colombia's government announced a peace deal with FARC (The Revolutionary Armed Forces of Colombia), ending a 52-year-old war with the leftist rebel group. If successful, the Colombian government may now be able to focus on much needed tax reforms. In addition, the strength of emerging markets local currencies this year, assisted by commodity price gains, has helped central banks build up foreign currency reserves for the first time in two years.
Article continues below advertisement
Besides bullish political developments in Brazil, there are signs that monetary policy has turned more supportive as Brazil's central bank indicated potential room for easing. Low or slowing inflation in other countries (e.g., Russia and Indonesia) may provide central banks room to ease rates or end tightening cycles to help boost growth. Elsewhere, including Chile and Mexico, central banks appear to maintain a more hawkish tone.
Market Realist – Tailwinds in some other emerging markets
Positive developments in some other nations could boost emerging market debt (EMLC) (HYEM). The agreement between the Colombian government and the Revolutionary Armed Forces of Colombia could pave the way toward restoring investor confidence in Colombia's economy, especially in the oil industry.
The government is likely to initiate various post-conflict initiatives such as land reforms, agricultural stimulus, and a series of development initiatives to improve infrastructure, healthcare, education, and housing.
Article continues below advertisement
Brazil's reforms
Brazil's (BRF) new government is eager to implement structural reforms to strengthen fiscal responsibility, and the central bank is likely to follow suit by easing monetary policy.
After years of heavy public spending, the government has proposed legislation to curtail federal expenditure and pension benefits. The proposed economic reforms have fueled hopes of an economic turnaround next year.
Lower inflation
Last week, Russia's central bank cut interest rates by 50 basis points to 10% due to lower inflation expectations. Russia (RSX) expects its inflation rate to fall to 4% by 2017 from the current 6.6%. The central bank is expected to follow a policy of gradual monetary easing. Buoyed by improving economic fundamentals, S&P Ratings upgraded Russia's credit rating outlook to "stable" from "negative."
Similarly, Indonesia's (IDX) inflation fell to 2.8% year-over-year in August, its lowest level since 2009 and well below the central bank's target rate of 3%–5%. Lower inflation and a stable current account deficit strengthened the case for further rate cuts by the central bank. ANZ Banking Group expects another 25-basis-point cut in the next few days.
Hawkish tone
Despite inflation's reaching its targeted level, Chile's central bank maintained a neutral stance and kept its benchmark rate steady at 3.5% in September. The central bank is likely to keep rates the same until 2018.
On the other hand, the Bank of Mexico raised its benchmark interest rate twice this year to its current level of 4.3%. The central bank believes that its current monetary policy is adequate to bring inflation to the target level of 3%.