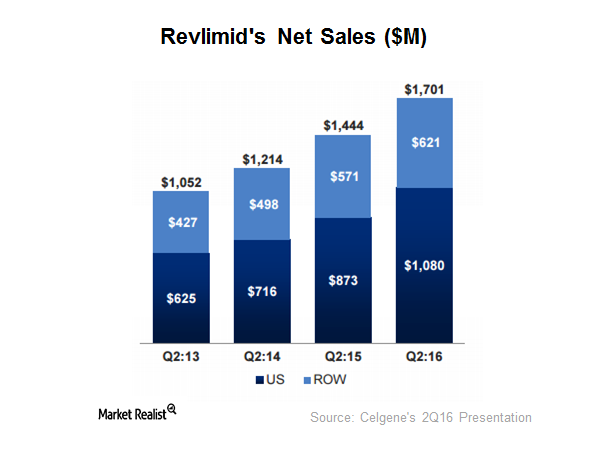 What Are the Possible Threats to Revlimid?
By Jillian Dabney

Sep. 8 2016, Updated 10:04 a.m. ET
Revlimid sales
With Revlimid and Pomalyst/Imnovid in its portfolio, Celgene (CELG) dominates the multiple myeloma (or MM) market. Revlimid's use in triplet combinations and in maintenance therapy in MM patients, as well as label expansion in the lymphoma space, is expected to drive its revenues.
During the second quarter of 2016, Revlimid earned $1.7 billion. Its sales from the US stood at $1.1 billion. For details on the drug's sales projections, please read Strong Growth in Demand Could Boost Revlimid's Sales in 2016. 
Article continues below advertisement
What are the possible threats to Revlimid?
In December 2015, Amgen (AMGN) and Merck (MRK) announced a collaboration Phase 1b/3 study for evaluating the combination of Blincyto with Keytruda in DLBCL patients. DLBCL is the most common type of NHL. The success of the combination study could impose significant competition to Revlimid in the lymphoma space.
During March 2016, Johnson & Johnson (JNJ) and Roche (RHHBY) entered a collaboration agreement to start a Phase 1b clinical trial for evaluating the combination of daratumumab, or Darzalex with Roche's Atezolizumab. There are other combination studies evaluating Darzalex with Revlimid, as well as Pomalyst separately.
Any combination or trio therapy success will force Revlimid to share the MM market with either Johnson & Johnson or both JNJ and RHHBY. As these studies are in their early phases, Revlimid's dominance won't be hampered so quickly. However, you should keep an eye on the outcome of these results.
Revlimid patent litigation settlement with Natco
Following the patent litigation settlement with Natco Pharma, Celgene provided the former with a license to manufacture and sell Revlimid's generic version in the US without volume limit from January 2026.
On a volume-limited license basis, Natco can sell the generic version of Revlimid beginning in March 2022. As noted by Celgene, the volume limit will be a mid-single-digit percentage of capsules sold in the US in the first year of entry and will gradually increase each year.
If you invest in the iShares NASDAQ Biotechnology ETF (IBB), you can enjoy exposure to Celgene. IBB holds ~7.8% of its total portfolio in CELG.
Continue to the next part for details another MM drug, Pomalyst.