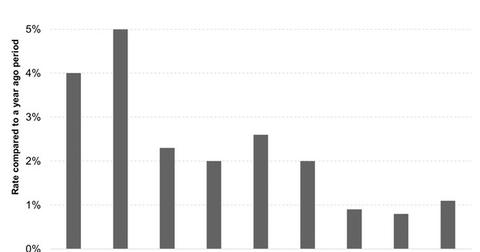 Was US Economic Growth a Worry for Policymakers?
By David Ashworth

Updated
Policymakers are fine with US economic growth
Monetary policymakers' view on US economic growth continues to improve. The September 2016 policy statement noted that "growth of economic activity has picked up from the modest pace seen in the first half of this year." This is an improvement from the July statement in which policymakers had described the pace of economic growth as "moderate." Meanwhile, the April statement was quite dull, stating that "growth in economic activity appears to have slowed." However, at present, economic growth numbers don't seem so comforting.
Article continues below advertisement
US economic growth rate revised
2016 began on a worrisome note for policymakers, as the first reading of 1Q16 came in at 0.5%. Though slow growth in the first quarter of a year is not unusual for the US economy, it was not due to a harsh winter this time. In previous years, cold weather had hampered homebuilding activity and kept shoppers indoors, thus impacting retailers (JCP) (M) (JWN). However, that was not the case in 2016, as the winter was much milder due to the El Niño effect.
Since that first reading, US economic growth was revised up for two successive readings. However, the 2Q16 growth, which had been placed at 1.2% in its first reading, has been revised down to a 1.1% annual pace while growth in 1Q16 has been reduced to 0.8%.
Importantly, in a release on September 23, the New York Fed reduced its forecast for economic growth in 3Q16 and 4Q16 to 2.26% and 1.22%, respectively, down from 2.38% and 1.37% just a week ago.
Though economic growth per se isn't great, consumer spending (XLP) (XRT) (VIGRX) is doing well. However, there's another aspect that policymakers look at that isn't infusing confidence. We'll look at this aspect in the next article.