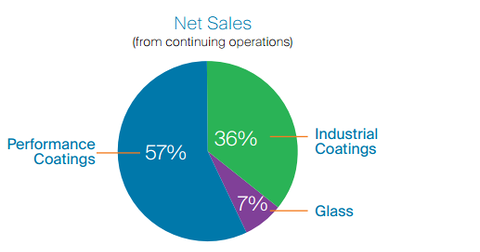 Understanding PPG's Formation through a Review of Its History
By Peter Neil

Updated
Overview of PPG
PPG Industries (PPG) is a Fortune 500 company and the world's largest paint and coatings company by revenue. In 2015, its coatings segment posted $14.2 billion of the company's overall revenue of $15.3 billion.
PPG has a presence in 70 countries and 156 manufacturing facilities worldwide. Its headquarters are in Pittsburgh, Pennsylvania. The company had ~46,600 employees at the end of 2015. It's a global supplier of paints, coatings, specialty materials (XLB), chemicals, glass, and fiberglass. The company caters to a variety of segments, including aerospace, architecture, marine, and automotive OEMs (original equipment manufacturers), to name a few.
Article continues below advertisement
Brief history
PPG Industries is the United States' first commercially successful plate glass company. It began as Pittsburgh Plate Glass Company in 1883 in Creighton, Pennsylvania. It was founded by Captain John B. Ford and John Pitcairn with a focus on innovation and quality.
The company grew rapidly in the 1900s and expanded its operations into Europe by acquiring a glass plant in Belgium. As a result of its diversification, the company changed its name in 1968 from Pittsburgh Plate Glass Company to PPG Industries.
The other major player in the coating industry, RPM International (RPM), was founded in 1947. Valspar (VAL) and Sherwin-Williams (SHW) were founded in 1806 and 1866, respectively. In March 2016, Sherwin-Williams announced that it would be acquiring Valspar for $11.3 billion. The merger is expected to be completed in the first quarter of 2017.
PPG Industries is listed and traded on the New York Stock Exchange with a market cap of approximately $27.9 billion with a three-month average trading volume of 1.5 million shares per day.
Series overview
In this series, we'll look at PPG Industries' journey to become the leader in the paints and coatings sector. We'll also look in detail at the company's segments and other financial aspects. At the end of the series, we'll take a look at the company's key valuation metrics.