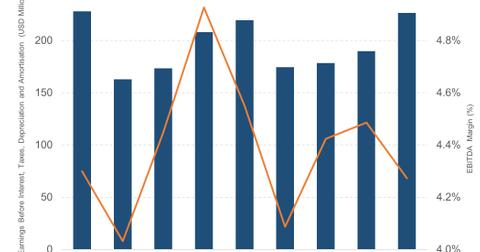 Key Takeaways from SUPERVALU's Fiscal 2017 Guidance Update
By Sonya Bells

Updated
A look at SVU's fiscal 2017 guidance update
As discussed in the previous article, Eden Prairie–based SUPERVALU (SVU) revised its fiscal 2017 profit guidance on September 8, 2016. 
The company is now expecting its adjusted EBITDA (earnings before interest tax, depreciation, and amortization) to fall by 5% YoY (year-over-year) compared to the 1.5% YoY fall it guided earlier.
The company trimmed its forecast, citing weaker-than-expected performances in its Save-A-Lot and retail segments. These segments together accounted for ~56% of the company's total revenue in fiscal 1Q16.
Article continues below advertisement
What's behind these poor performances?
SVU, which is expected to report its fiscal 2Q17 results in the middle of October, said that Save-A-Lot's performance during the quarter was negatively affected by lower SNAP (supplemental nutrition assistance program) benefits and a higher level of deflation. It also mentioned that its retail business was affected by "competitive openings and a challenging sales and operating environment."
The company expects the above-mentioned factors to impact the performances of both these segments for the remainder of the year. The company now expects the fiscal 2Q17 same-store sales of the Save-A-Lot and retail segments to be even lower than they were in fiscal 1Q17. Same-store sales for the Save-A-Lot and retail segments stood at -1.4% and -4.5%, respectively, in fiscal 1Q17.
ETF investors seeking to add exposure to SVU can consider the iShares Morningstar Small-Cap Value ETF (JKL), which invests 0.26% of its portfolio in the company.
Grocery sector and deflation woes
Several grocery sector players have cited persistent deflation as a threat to their potential earnings. Sprouts Farmers Market (SFM) recently lowered its third-quarter and full-year earnings guidance, blaming a highly competitive environment and prolonged deflation for its guidance revision.
Whole Foods Market (WFM), which reported its third-quarter results in late July, also highlighted deflation as a headwind for its fourth-quarter earnings.
It will be interesting to see the impact of deflation on Kroger's (KR) bottom line in its earnings report, released on September 9.
Meanwhile, let's move on to the next article for an overview of SVU's market share performance, current valuations, and Wall Street's recommendations.