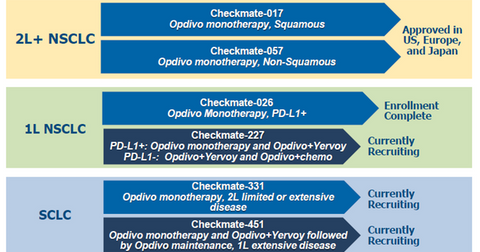 How Multiple Research Programs in Lung Cancer Space Are Impacting Bristol-Myers Squibb
By Margaret Patrick

Updated
Broad registrational program
Bristol-Myers Squibb (BMY) is currently involved in a broad registrational program made up of multiple Phase 3 clinical trials to develop Opdivo either as monotherapy or as a combination therapy for several indications in lung cancer. CheckMate-017 and CheckMate-057 were two of those Phase 3 trials, both of which led to the approval of the drug as a second-line therapy for non-small-cell lung cancer, or NSCLC, around the world.
Multiple research programs in lung cancer are expected to boost Bristol-Myers Squibb's share price in the future, which could also have a positive impact on the share prices of the iShares S&P 500 Growth ETF (IVW) because the company holds about 0.60% of IVW's total portfolio holdings.
Article continues below advertisement
New clinical trials 
On August 05, 2016, Bristol-Myers Squibb announced that data from Phase 3 trial, Checkmate-026, failed to demonstrate Opdivo's efficacy over chemotherapy as a first-line monotherapy for NSCLC patients with Programmed death-ligand 1 (or PD-L1) protein expression by at least 5% of their tumor cells. This result may affect the company's addressable market size in lung cancer. Peers Merck (MRK), Roche Holdings (RHHBY), and AstraZeneca (AZN) could also witness rises in sales for their lung cancer drugs in 2016.
Checkmate-227 is being developed to explore the use of Opdivo either as monotherapy or as combination therapy with Yervoy in both NSCLC patient categories—one with tumors demonstrating PD-L1 expression and the other with patients who do not display the PD-L1 expression. The enrollment of human subjects in the PD-L1 expression category has been already completed. While the company expects to obtain data for patients with tumors expressing PD-L1 soon, Bristol-Myers Squibb has estimated that the final results of this trial will be read in 2018.
Bristol-Myers Squibb is also exploring Opdivo and other immunotherapy combinations as a treatment for small-cell lung cancer in both second-line limited or extensive disease cases as well as maintenance therapy for patients treated with first-line chemotherapy to control extensive diseases.
In the next part, we'll explore the growth trends of its multiple myeloma drug, Empliciti.