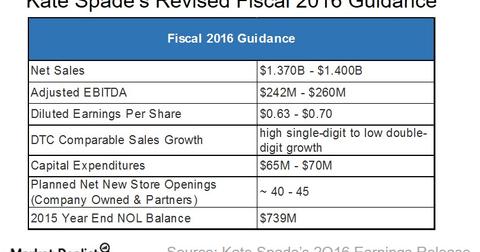 What to Expect from Kate Spade in 2H16?
By Sonya Bells

Updated
Kate Spade lowers full-year guidance on weak 2Q16 results
As a result of weaker-than-expected 2Q results, Kate Spade (KATE) lowered its full-year guidance. The company now expects its 2016 full-year sales to lie in the $1.37 billion–$1.4 billion range as compared to the previous guidance of $1.39 billion–$1.41 billion. It also revised its earnings projection downwards and is now looking for earnings per share to lie between 63 cents to 70 cents as compared to 70 cents to 80 cents a share guided previously.
Sales comps projections have also been revised downwards. Kate Spade is now expecting its comps to grow by high-single digits to low-double digits for the full fiscal 2016. This compares to the previous forecast of comparable sales growth in the low to mid teens.
Adjusted EBITDA is forecasted to be between $242 million to $260 million, representing EBITDA margin expansion between 100 basis points to 200 basis points.
Article continues below advertisement
Management is confident about Kate Spade's 2H16 performance
The company's management said that it remains focused on its key initiatives like supply chain improvements, increased licensing penetration, and SG&A leverage to achieve its targets. It's anticipating a stronger performance in the second half of the year as it carries out product mix improvements and launches handbag-focused digital marketing in its full price channel in the second part of the year.
While talking about the company's expected performance in the remainder of the year, George Carrara, president and CEO of Kate Spade, commented, "Looking ahead to the back half of the year, we are taking a prudent approach and updating our guidance accordingly. We remain confident in our long-term ability to continue to achieve robust margin expansion, both in 2016 and beyond, based primarily on our ability to scale our foundation, leverage expenses, grow our licensing business and benefit from supply chain enhancements."
ETF investors seeking to add exposure to Kate Spade can consider the iShares Morningstar Small-Cap Growth ETF (JKK), which invests 0.43% of its portfolio in Kate Spade.