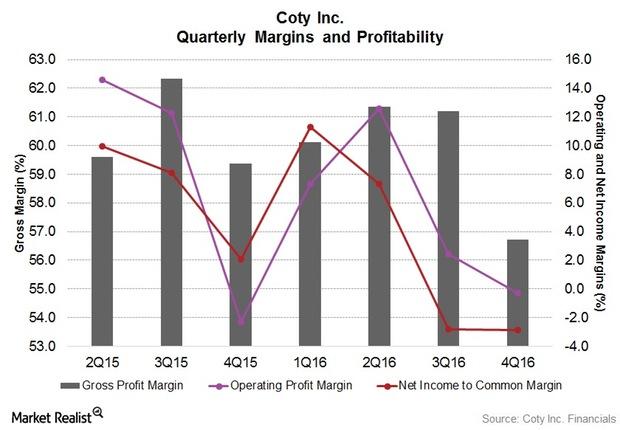 Coty's Reported and Adjusted Operational Margins: What Happened?
By Penny Morgan

Aug. 19 2016, Updated 9:04 a.m. ET
Reported gross margin decline
Coty (COTY) reported a decline in its gross margin in 4Q16 as well as fiscal 2016. The reported gross margin came in at 56.7% for 4Q16 and 59.9% for fiscal 2016 compared to 60.0% for fiscal 2015. An adjusted gross margin of 60.4% in fiscal 2016 increased from 60.1% in the previous year. This change was due to lower levels of discounting activity and continuous efforts in driving supply chain efficiencies.
Article continues below advertisement
Adjusted operating margin versus peers
Coty's adjusted operating income increased 3% to $0.6 billion in fiscal 2016 due to reduced non-strategic A&CP spending and lower fixed costs. As a result, adjusted operating margins increased 60 basis points to 14.3% in fiscal 2016 from 13.7% in the prior year.
Reported 4Q16 operating loss improved to -$2.9 million from -$23.4 million in the prior year, reflecting a 200 basis point improvement in the reported operating margin to -0.3% from -2.3%. However, the adjusted operating margin increased 100 basis points to 8.8% in 4Q16.
In comparison, Procter & Gamble's (PG) 4Q16 operating margin increased to 15.5%. Productivity improvements contributed 360 basis points of operating margin benefit. L'Oréal's (LRLCY) and Shiseido's (SSDOY) operating margins also increased. L'Oréal's operational margin rose 20 basis points to 18.3% for first half of fiscal 2016. Avon's (AVP) adjusted operating margin improved 100 basis points to 7.3% in C2Q16.
Cash flow and net debt
In fiscal 2016, Coty generated $0.5 billion in operating cash flow and $0.4 billion in free cash flow, up from $0.3 billion in the prior year. This change marked Coty's seventh consecutive year of generating more than $0.3 billion of free cash flow.
Cash and cash equivalents increased to $0.4 billion and total debt of $4.2 billion rose by $1.5 billion, with net debt of $3.8 billion up $1.5 billion from the balance on June 30, 2015. The increase in net debt was primarily driven by borrowings in connection with acquisition-related spending for the P&G Beauty Brands transaction.
COTY is 0.01% of the iShares Core S&P Total U.S. Stock Market ETF (ITOT).[1. As of August 16, 2016]