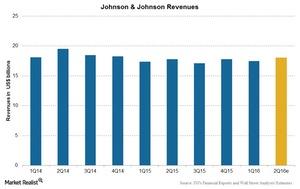 Estimates for Johnson & Johnson's 2Q16 Margins
By Mike Benson

Updated
Johnson & Johnson's revenue estimates
Analysts expect Johnson & Johnson's (JNJ) 2Q16 revenues to rise by ~1.2% to ~$18.0 billion following an increase in sales of its blockbuster drugs, including Remicade, Stelara, Olysio, and Zytiga. However, this growth is expected to be partially offset by the negative impact of foreign exchange. Analysts estimate year-over-year growth of ~3.6% for 3Q16 and 4.3% for 4Q16. The chart below shows JNJ's actual revenues and analysts' estimates for revenues since 1Q14.
Article continues below advertisement
Segment-wise expectations for 2Q16
Johnson & Johnson is divided into three business segments: Pharmaceuticals, Medical Devices, and Consumer.
The Pharmaceuticals segment contributes nearly 47% of total revenues for JNJ. This segment's performance is expected to increase during 2Q16 mainly due to the operational performance of all products. However, this increase is expected to be partially offset by the expected lower sales of hepatitis C products.
The Medical Devices segment contributes nearly 35% of total revenues for JNJ. The segment is expected to report operational growth, but this growth might be offset by the diabetes and orthopaedics businesses.
The Consumer segment contributes nearly 18% of JNJ's total revenues. This segment will likely benefit from operational growth in women's health products and the oral care business, but this growth will likely be partially offset by the wound care and baby care businesses.
During 2Q16, the company announced the acquisitions of NeoStrata Company and Vogue International to strengthen its product portfolio in the skin care and hair care businesses, respectively. The deals are expected to be closed in the third quarter of 2016 but will not have a significant impact on the revenues and earnings guidance for 2016.
Article continues below advertisement
Estimated profit margins for 2Q16
For 2Q16, JNJ's gross margin is expected to remain constant at 69.9%. The company's EBITDA (earnings before interest, tax, depreciation, and amortization) margin is expected to improve by ~0.7% to 34.4% for 2Q16, as compared to 33.7% for 2Q15. Its operating profit margin is expected to improve by ~3.5% to 31.2% in 2Q16 as compared to 27.6% in 2Q15. This improvement is mainly due to Johnson & Johnson's constant efforts to decrease its selling and marketing expenses and its focus on late-stage research and development.
The company's net profit margin is also expected to improve marginally to 26.0% for 2Q16 as compared to 25.8% for 2Q15.
Among JNJ's key drugs, Stelara competes with Abbott's (ABT) Humira, and Xarelto competes with Bristol-Myers Squibb's (BMY) and Pfizer's (PFE) Eliquis. To diversify risk, you can consider ETFs like the Fidelity MSCI Health Care Index ETF (FHLC), which invests 10.6% of its portfolio in Johnson & Johnson.