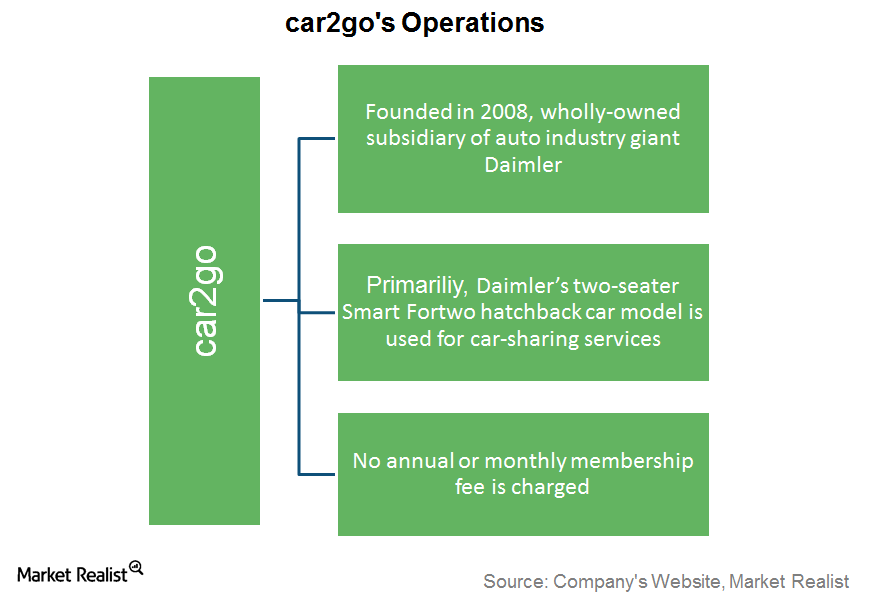 How Is Daimler Expanding Its Car-Sharing Business?
The car-sharing business
Previously, we discussed Avis Budget Group's (CAR) Zipcar's car-sharing services and the variety of vehicles in its fleet. In North America and Europe, two major markets for the car-sharing business, another mainstream car-sharing service provider is car2go. The company is a wholly-owned subsidiary of auto industry giant Daimler (DDAIF). In this part, we'll explore how car2go is helping Daimler expand its presence in the car-sharing business.
Article continues below advertisement
How is car2go different from Zipcar?
Founded in 2008, car2go is based in Stuttgart, Germany. In terms of services, car2go's business model is quite similar to Zipcar, as car2go also owns its fleet of vehicles. However, it only provides one car model, Daimler's two-seater Smart Fortwo hatchback. Customers can opt for four-seater vehicles in certain cities only. This way, car2go can offer vehicles for car-sharing at a lower cost, while boosting Daimler's fleet sales. According to car2go's website, it provides car-sharing services through three plans: $0.41 per minute, $14.99 per hour, and $84.99 per day. These plans include parking charges, fuel costs, and annual fees.
Before using car2go services, customers need to register with the company, providing their driver's license and credit card information. Unlike Zipcar, car2go doesn't charge a monthly or membership fee. However, it does charge a one-time registration fee of $35 (excluding taxes).
Services
Daimler's car2go provides three types of services.
One-way trips: customers can choose to begin their trip from "Point A." After the trip is complete, they can simply leave the car at "Point B" in any legal on-street parking spot within the company's "Home Area."
On-demand: customers can hail a car on the spot without any prior reservations, or reserve it up to 30 minutes prior to the journey with the on-demand service.
By-the-minute: car2go customers can make reservations ahead of time.
The company offers services in about 29 cities in nine countries. These countries include the United States, Austria, Canada, Germany, Italy, Netherlands, Spain, Sweden, and China. The company primarily competes with Zipcar, Uber, and Lyft.
The high future growth prospects of these car-sharing companies are luring mainstream automakers (XLY), drawing investments from auto giants such as Daimler, General Motors (GM), and Volkswagen (VLKAY). Read on to the next article to learn about the popular e-hailing company, Uber.
Correction: This post originally claimed that car2go users need to leave the shared vehicles in pre-allocated parking spots. However, users can leave the vehicles in any legal parking spot within one of the company's "home areas." Further, we originally claimed that car2go operates in 28 cities, but the current number is 29. We regret these errors.