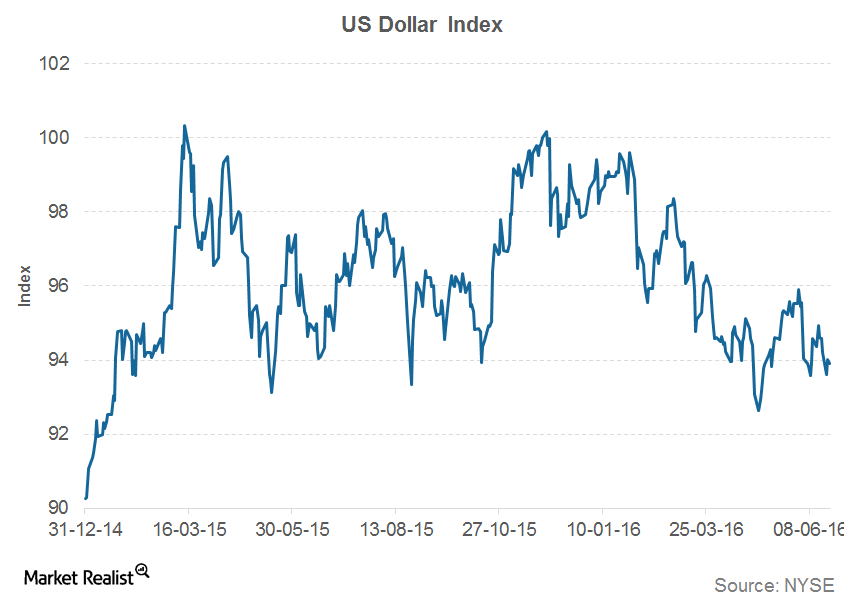 How Might the US Auto Industry Benefit from the Weakening US Dollar?
The US auto industry
Previously, we looked at recent trends in the US consumer confidence index. Rising consumer confidence in the economic prospects is a positive sign for the auto industry. In a high capital-intensive industry like automobiles, it's important for investors to pay attention to the indicators that affect automakers' profitability. So we'll look at another key factor that has an impact the profitability of US automakers: US dollar movement.
Article continues below advertisement
The US dollar index
The US dollar index measures the value of the dollar compared to its significant trading partners. A rising value means the dollar is stronger than other currencies, and vice versa.
The above chart shows the recent trend in the US dollar index. Over the last couple of weeks, the greenback has weakened against the basket of major currencies. The index was hovering at 95.89 on May 31, 2015, and it's currently trading at 93.89 as of June 22, 2016. This means that the US dollar index has weakened 2.1% in June 2016 so far.
In its year-to-date performance, the US dollar index is has dropped by 4.8%.
Impact on the auto industry
The recent weakness in the US dollar is positive for US-based automobile companies (VCR) like Ford (F), General Motors (GM), and Tesla Motors (TSLA). All these companies' 2015 earnings were negatively impacted by adverse currency movement. However, recent weakness in the US dollar should help them to boost their earnings in the coming quarters.
By contrast, the US earnings of European automakers including Volkswagen (VLKAY) and Daimler (DDAIF) may get hurt by this recent weakness in the US dollar. Similarly, Japanese automakers including Toyota (TM) and Honda (HMC) are also likely to face challenges due to the weakening US dollar.
In the next part, we'll discuss how gasoline prices impact the auto industry.