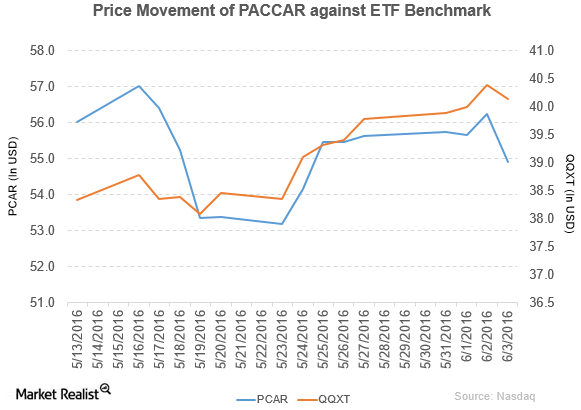 Why Goldman Sachs Downgraded Paccar to 'Neutral'
Price movement of Paccar
Paccar (PCAR) has a market cap of $19.2 billion. It fell by 2.4% to close at $54.90 per share on June 3, 2016. Its weekly, monthly, and year-to-date (or YTD) price movements were -1.0%, -1.4%, and 16.9%, respectively, as of the same day. This means that PCAR is trading 1.0% below its 20-day moving average, 0.79% below its 50-day moving average, and 6.2% above its 200-day moving average.
Article continues below advertisement
Related ETF and peers
The First Trust NASDAQ-100 ex-Technology Sector ETF (QQXT) invests 1.7% of its holdings in Paccar. It tracks an equal-weighted index of NASDAQ-100 stocks that excludes technology companies. The YTD price movement of QQXT was -3.2% as of June 3, 2016.
The market caps of PACCAR's competitors are as follows:
Goldman Sachs downgraded Paccar
Goldman Sachs has downgraded Paccar's rating to "neutral" from "buy." It also reduced the company's stock price target to $63 from $67 per share.
Performance of Paccar in fiscal 1Q16
Paccar (PCAR) reported fiscal 1Q16 Truck, Parts, and Other segment net sales and revenues of ~$4.0 billion. That's a decline of 11.8% compared to ~$4.5 billion in fiscal 1Q15. It reported a European Commission charge of $942.6 million that quarter.
Paccar's Financial Services revenue rose to $289.4 million in fiscal 1Q16, an increase of 1.7% compared to fiscal 1Q15. Its net income and EPS (earnings per share) fell to -$594.6 million and -$1.69, respectively, in fiscal 1Q16, compared to $378.4 million and $1.06, respectively, in fiscal 1Q15.
Paccar's cash and marketable debt securities fell by 4.3%, and its inventories rose by 4.1% in fiscal 1Q16 compared to fiscal 4Q15. Its debt-to-equity ratio rose to 2.4x in fiscal 1Q16 compared to 2.0x in fiscal 4Q15.
During the first quarter of 2016, the company repurchased 1.1 million of its common shares for $56.3 million.
Next, we'll take a look at Constellation Brands.