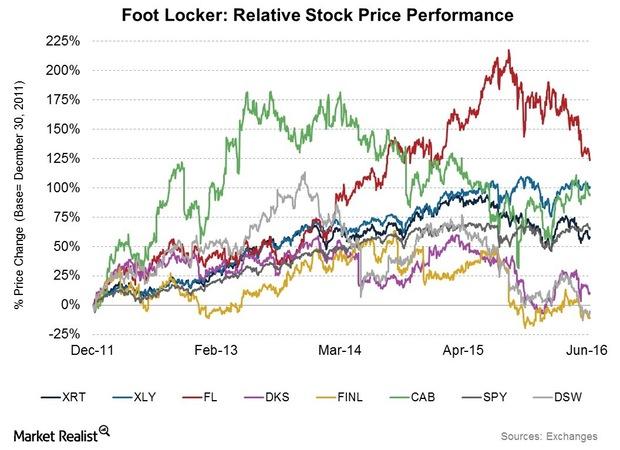 An Investor's Must-Know Guide to Foot Locker
By Phalguni Soni

Nov. 22 2019, Updated 5:48 a.m. ET
What are Foot Locker's investment fundamentals?
New York–based Foot Locker (FL) is one of the largest athletic specialty retailers (XRT) in North America. Incorporated in 1989, the company's operations span 23 countries in North America, Europe, and Asia-Pacific. As the name suggests, Foot Locker is primarily engaged in selling athletic footwear and, to a lesser extent, athletic apparel and accessories.
Article continues below advertisement
Foot Locker's business model
Primarily a mall-based retailer, Foot Locker operates in several store formats. It targets niche markets, population segments, and products with each retail variant. The company's store count of owned stores stood at 3,396 at the end of fiscal 1Q17, the last reported quarter, which ended April 30, 2016.
In addition, Foot Locker also sells its products on its websites. It also has a franchise arrangement for about 64 stores in the Middle East, Germany, and the Republic of Korea.
Foot Locker (FL) has been one of the better-performing stocks in the specialty retail space over the past five years. The company is considerably larger than other players in the space. It had a market cap of $7.3 billion as of June 17, 2016.
Below are the market caps of some other US-based specialty sporting goods retailers:
FL, DKS, FINL, DSW, and CAB together make up 5.4% of the portfolio holdings of the SPDR S&P Retail ETF (XRT).
In this company overview series, we'll analyze Foot Locker's business, its market positioning, and its revenue and expense outlook. We'll also look at investments the company is making to spur growth and how its shareholder returns stack up compared to the industry.
We'll start with an analysis of the competitive forces shaping athletic specialty retailers.