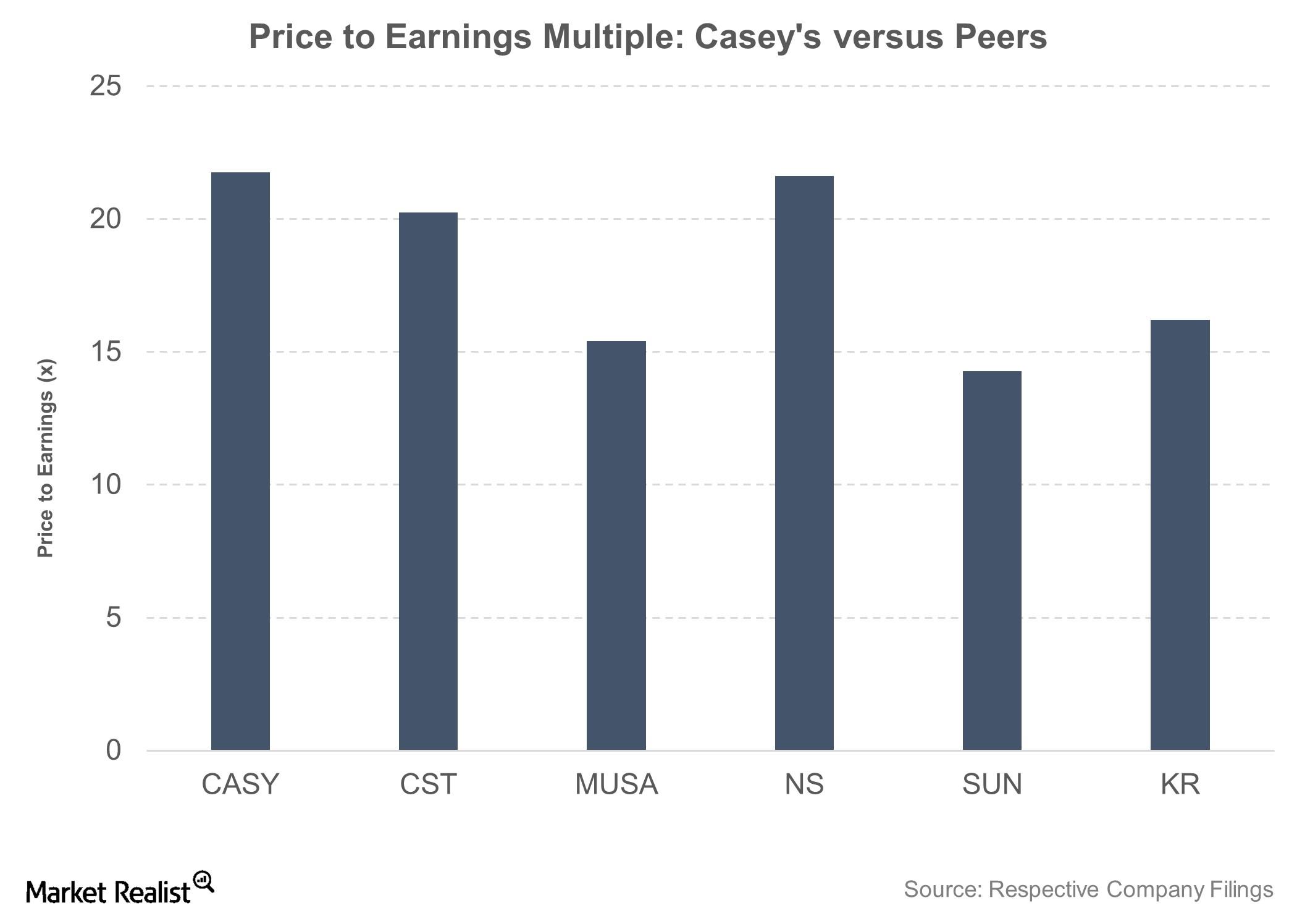 Analyzing the Valuations of Casey's and Its Peers
Growth expectations for fiscal 2016
Casey's General Stores (CASY) is expected to register strong earnings growth in the final quarter of its fiscal 2016. The company's earnings per share (or EPS) are predicted to rise by 16% to reach $1.21 per share in fiscal 4Q16. This would bring its fiscal 2016 EPS to $5.76, reflecting a rise of ~25% over the previous fiscal year.
Fiscal 2017 is expected to be a flat growth year for Casey's earnings, as EPS are predicted to be ~$5.78. Of the 12 analysts following CASY, 66% have recommended "buys," and 34% have recommended "holds" on the stock. No analysts have recommended "sells" on the stock.
Article continues below advertisement
Comparing Casey's valuations to its peers'
Casey's is currently trading at a one-year forward earnings multiple of 21.7x, which puts it closer to the upper end of its 52-week PE (price to earnings ratio) range of 16.4x–22.8x. The company's current valuations are higher than many of its close competitors in the convenience store and supermarket industry.
While CST Brands (CST) has a similar PE of 20x, Murphy USA (MUSA) and Sunoco (SUN) are trading at PEs of 15.4x and 14.3x, respectively. Kroger, the biggest supermarket chain, operates 1,330 fuel stations in the United States and is trading at a PE of 16.2x as of June 2, 2016.
Casey's next-12-month earnings growth forecast is weak compared to MUSA's, SUN's, and KR's. These three companies, which have lower valuations than CASY, have next-12-month EPS growth forecasts of 32%, 16.7%, and 8.2%, respectively.
The analyst community finds Casey's stock to be fairly valued and puts a 4% upside potential on its current price of $123.54. The target price for Casey's stock is $128.25
Investors looking for exposure to Casey's can invest in the ProShares S&P MidCap 400 Dividend Aristocrats ETF (REGL), which has ~1.7% of its holdings invested in the company.