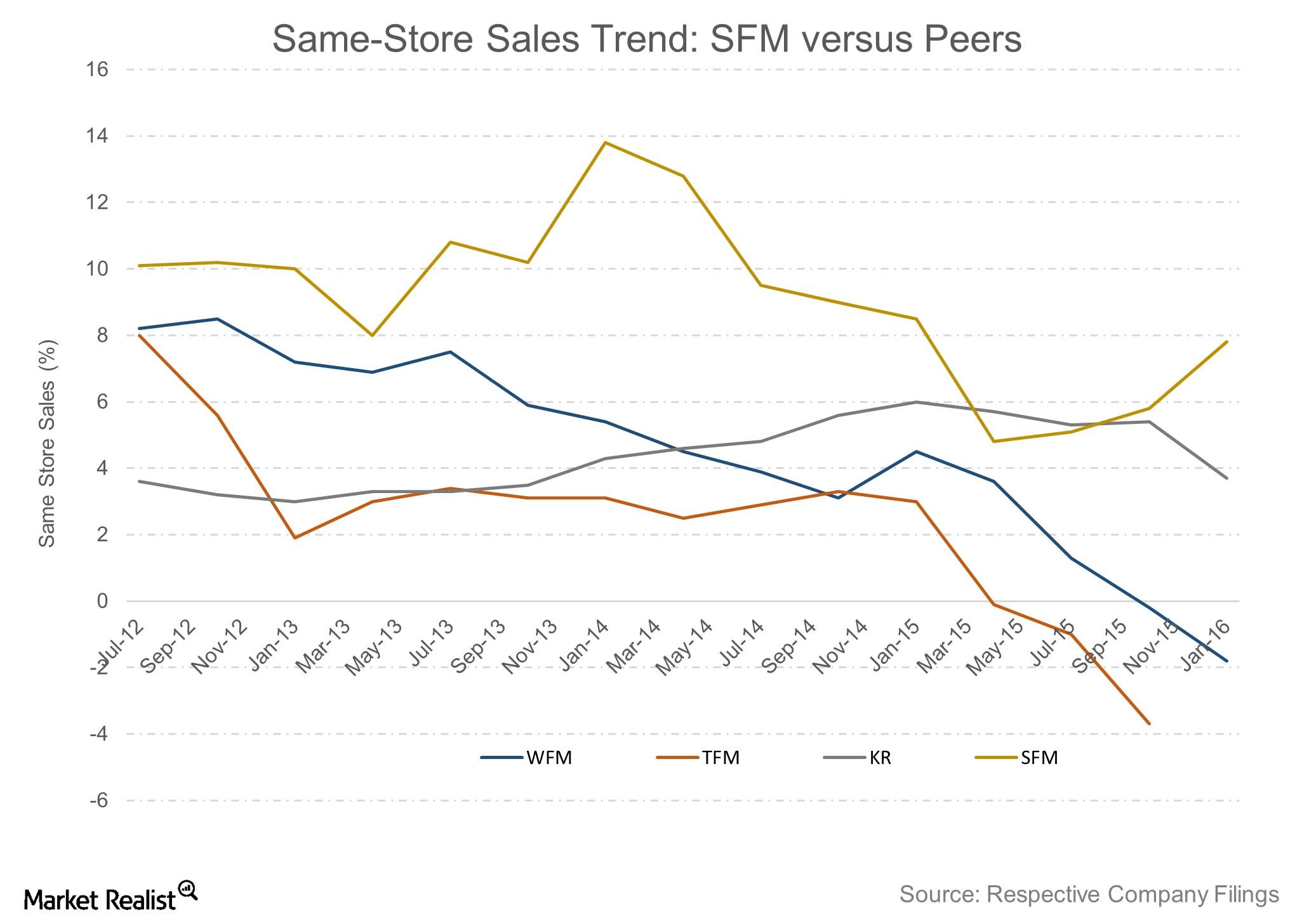 Sprouts' 'Healthy Living for Less' Motto Boosts Its Sales
By Sonya Bells

May. 2 2016, Published 11:20 a.m. ET
Sprouts delivered strong sales comps compared to peers
Sprouts Farmers Market's (SFM) customers seem to respond to the company's motto of "Healthy Living for Less." The company has positioned itself as a value player in the natural and organic food segment and has been a determined competitor to this space's premium player, Whole Foods Market (WFM).
Sprouts Farmers Market's success is evident from its strong same-store sales, which have grown quarter-over-quarter. The company delivered average comps (comparable store sales) of more than 9% over the last 15 quarters. In comparison, Kroger (KR), Whole Foods Market (WFM), and The Fresh Market (TFM) registered average same-store sales of 4.3%, 4.5%, and 2.9%, respectively.
Article continues below advertisement
Top-line performance in 4Q15
Sprouts Farmers Market (SFM) reported robust sales growth of 26.6% YoY (year-over-year) in its 4Q15 revenues for the quarter ended January 3, 2016. Its sales stood at $930 million, beating the analysts' estimates by $20 million. The company's top-line growth was fueled by a combination of strong sales comps and a solid performance of new stores.
SFM achieved its 35th consecutive quarter of positive same-store sales, reporting a 7.4% increase in comps in 4Q15. SFM's sales comps exceeded the company's own guidance of 5%–5.5% growth due to a better holiday season.
Sprouts outperforms other organic players by a huge gap
Sprouts Farmers Market's performance is particularly impressive when compared to Whole Foods Market (WFM) and The Fresh Market (TFM). These organic and natural food players are losing traffic after the entry of mainstream companies like Kroger (KR) and Walmart (WMT) in the organic space.
Whole Foods Market (WFM) reported negative same-store sales of 1.8% in the last reported quarter ended January 30, 2016. The Fresh Market's (TFM) decline was even worse at -3.7% for the quarter ended October 25, 2016.
Investors looking for exposure to Sprouts Farmers Market (SFM) through ETFs can invest in the Guggenheim S&P MidCap 400 Pure Growth ETF (RFG). SFM has a weight of ~1.8% in RFG.
SFM's impressive top-line growth resulted in an even better bottom-line performance. Please read the next part to learn about the company's margins and profitability in 4Q15.