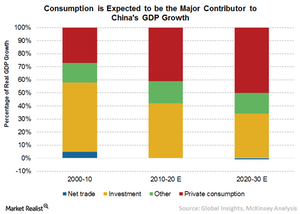 Effect of China's Economic Transition on Consumer-Driven Model
By Rick Rieder

Apr. 1 2016, Published 3:04 p.m. ET
At the same time, perhaps the most pivotal fault line of risk in the world today is the stability of China's economic system, as policy makers there attempt to transition from a manufacturing/export-led model of growth to a more consumer-driven/services model reflective of today's high-tech world.
Article continues below advertisement
Market Realist – Chinese economic transition
The big theme of 2015 was the Chinese (FXI) (MCHI) economic transition from an investment- and manufacturing-led growth to a consumption- and services-driven economy. The latest data show that China's industrial production grew at a lower rate of just 6.1% YoY (year-over-year) in fiscal 2015 compared to 8.3% in 2014. During the first two months of 2016, industrial (IYJ) production grew at its slowest pace of 5.4%, the weakest since November 2008. In contrast, the services sector recorded a higher growth of 8.3% in 2015 compared to 7.8% growth in 2014.
An analysis by McKinsey shows that private consumption (IYC) contributed 27% to China's GDP (gross domestic product) from 2000 to 2010. McKinsey expects the share of private consumption to increase further to 41% during the period of 2010 to 2020. It's expected to reach even higher to 51% from 2020 to 2030. On the other hand, the share of investment is expected to fall from 53% from 2000 to 2010 to 34% from 2020 to 2030.
The shifting focus of the Chinese economy away from reliance on the stagnant manufacturing sector has led to a drop in global commodity (GSG) prices such as oil. The plunge in prices and the decline in imports of many commodities have led to China's current account surplus improving from 2.1% of GDP in 2014 to 2.7% in 2015. The surplus is likely to reach about 4% of GDP in 2016.