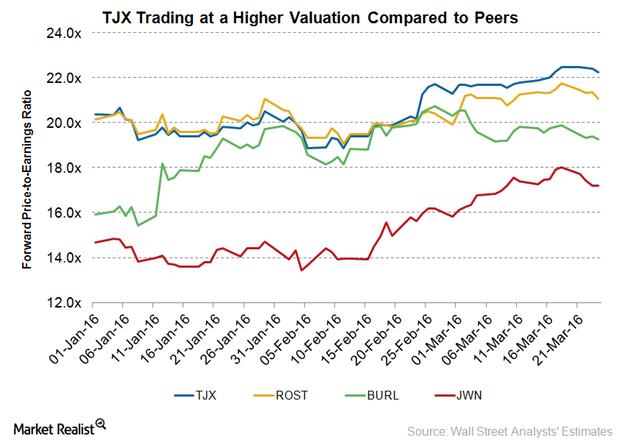 Why TJX is Trading at a Higher Valuation than Off-Price Peers?
Current valuation
TJX Companies (TJX), the largest off-price retailer in the US, is currently trading at a higher valuation multiple than others in its peer group. As of March 24, 2016, TJX Companies was trading at a 12-month forward PE (price-to-earnings) ratio of 22.3x. Off-price retailers Ross Stores (ROST) and Burlington Stores (BURL), by comparison, were trading at forward PEs of 21.1x and 19.3x, respectively. Nordstrom (JWN), operator of the off-price Nordstrom Rack stores, was trading at a forward PE of 17.2x as of the same day.
Article continues below advertisement
Analyst expectations for TJX Companies and Ross Stores
The higher valuation of TJX Companies compared to other off-price retailers is supported by the company's strong same-store sales growth, extensive store network in the US and abroad, and consistent performance. As discussed in Part 1 of this series, TJX Companies delivered higher same-store sales growth than its peer group in the previous fiscal year. For fiscal 2016 (ending January 28, 2017), analysts expect TJX Companies to report a 6% and 5% growth in its revenue and adjusted EPS (earnings per share), respectively—growth rate estimates that are lower than expectations for Ross Stores and Burlington Stores.
For fiscal 2016, analysts expect Ross Stores to deliver revenue and sales growth of 6% and 9%, respectively. In March 2016, Ross Stores' management issued a cautious outlook for fiscal 2016, citing an increasingly uncertain and volatile macroeconomic and retail environment. For fiscal 2016, the company expects its same-store sales to grow at a modest 1%–2% rate and diluted EPS to grow by 3%–8% over fiscal 2015. Notably, the iShares Russell 1000 Growth ETF (IWF) has 0.2% exposure to Ross Stores.
Analyst expectations for Burlington
Analysts expect Burlington Stores' revenue in fiscal 2016 to grow by 6% and adjusted EPS to grow by 18%. Based on the guidance issued in March 2016, Burlington Stores expects its fiscal 2016 net sales to increase in the 6.5%–7.5% range and adjusted EPS to rise by 13.4%–17.8%.
Burlington Stores is taking several initiatives to improve its same-store sales, including focusing on women's ready-to-wear apparel and accessories to attract the female demographic, a core demographic of the off-price retailer. The company is also working on expanding its merchandise in categories like children's products, bath and cosmetic, houseware and home decor, and beauty.
In any case, extensive store presence, strong supplier relationships, and efficient inventory management will likely help these established off-price retailers sustain their performance, despite threats from new entrants like Macy's (M) in the off-price space.
For more updates, visit our Consumer Discretionary page.