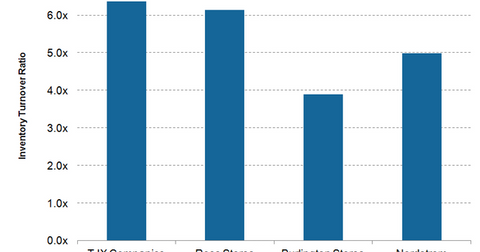 Why Off-Price Retailers Are Managing Inventory Better than Department Stores
By Sirisha Bhogaraju

Updated
Inventory management
Efficient inventory management is one of the key attributes of off-price retailers like TJX Companies (TJX) and Ross Stores (ROST). These off-price retailers maintain lean inventory levels to be able to take advantage of opportunities to acquire merchandise at substantial discounts. Such opportunistic buying helps off-price retailers offer bargain deals to consumers, which helps move inventory faster.
Article continues below advertisement
Inventory turnover ratio
The inventory turnover ratio indicates how often inventory gets sold and replaced during a given period. In the fiscal 2015, the inventory turnover ratio of TJX Companies, Ross Stores, Burlington Stores (BURL), and Nordstrom (JWN) came in at 6.4x, 6.1x, 3.9x, and 5.0x, respectively. Notably, TJX Companies and Ross Stores together account for 0.8% of the iShares S&P 500 Growth ETF (IVW). (Nordstrom has a presence in the off-price space through its Nordstrom Rack stores.)
The inventory turnover ratios of department stores Macy's (M), Kohl's (KSS), and J. C. Penney (JCP) were 3.0x, 3.1x, and 3.0x, respectively, in fiscal 2015. The higher turnover ratios of off-price retailers help these stores avoid markdowns, thus boosting their margins.
Days of inventory outstanding
The days of inventory outstanding metric measures the average number of days that a company holds its inventory before selling it. In fiscal 2015, TJX Companies had a lower days inventory outstanding of 57.1 compared to its peers. Ross Stores, Burlington Stores, and Nordstrom had days of inventory outstanding of 59.2, 93.5, and 73.0, respectively. A lower metric helps bring down inventory-related costs and ensures that there is a lower proportion of aged inventory on hand. Department stores Macy's, Kohl's, and J. C. Penney had higher days of inventory outstanding, at 121.6, 116.5, and 121.1, respectively, in fiscal 2015.
Now let's look at the store expansion plans of off-price retailers.