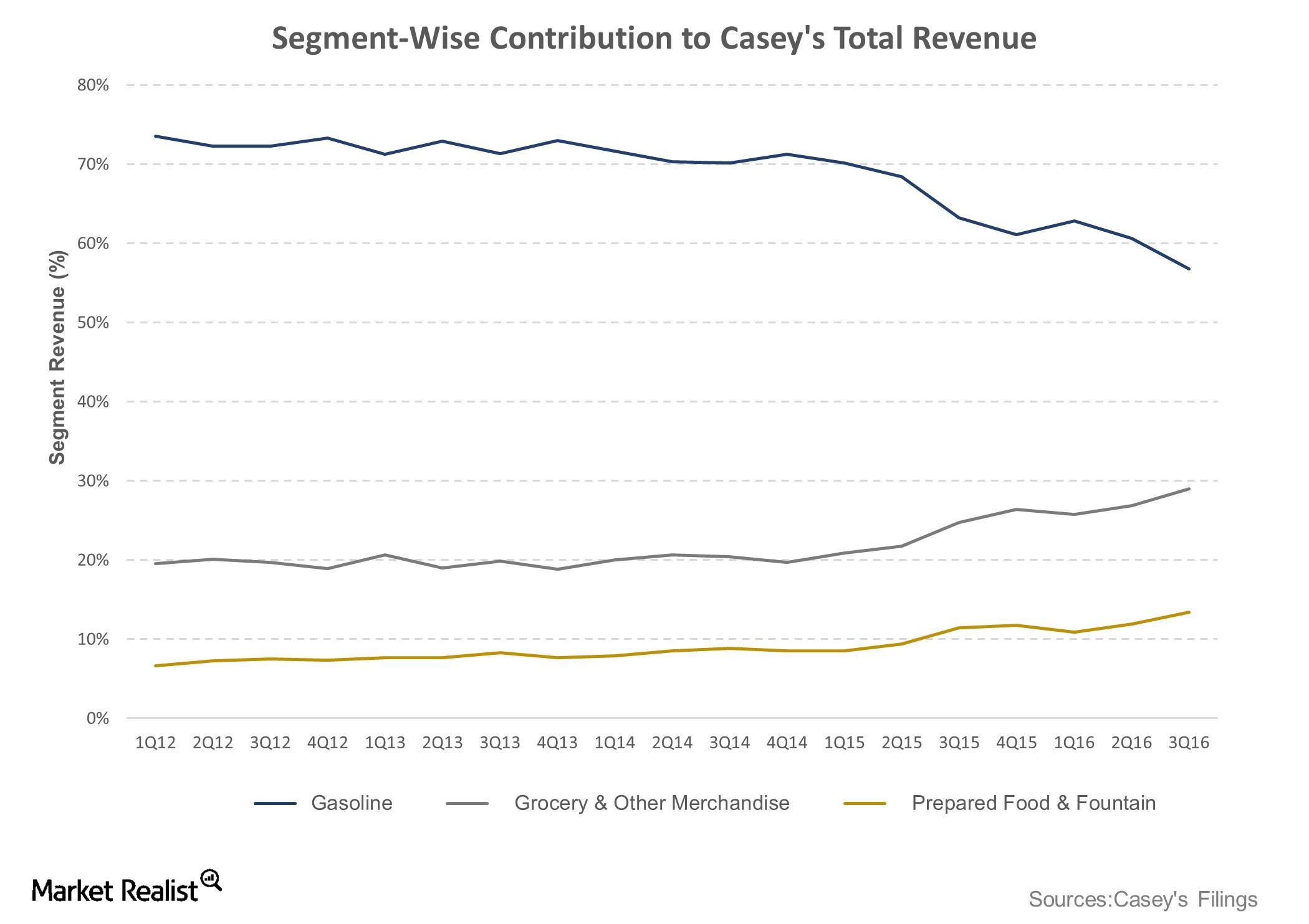 How Did Fuel Prices Treat Casey's Margins in Fiscal 3Q16?
By Sonya Bells

Mar. 15 2016, Updated 10:05 a.m. ET
Largest revenue segment contributed the least
Fuel is the largest revenue-generating category for Casey's General Stores (CASY) and accounted for ~66% of the company's revenue in fiscal 2015. All of the Casey's stores except one offer gasoline and diesel for sale on a self-service basis.
The contribution of this category toward the company's top line has seen a continuous fall over the past few quarters due to low fuel prices. It accounted for around 56% of Casey's total revenue in the most recent quarter.
Though fuel is the largest revenue-generating category, its contribution toward the company's gross profit has been the lowest. In fact, gross margin of this segment is highly unpredictable and volatile due to high volatility in fuel prices.
As a result, the gross profit contribution of the fuel segment varied from 18.7% in fiscal 4Q14 to 27.7% in fiscal 2Q16. In fiscal 3Q16, the fuel category generated around 23% of Casey's gross profit.
Article continues below advertisement
Performance in the most recent quarter
Same-store gallons were up 1.6% during fiscal 3Q16, with an average margin of 18.1 cents per gallon. Though same-store gallons were below the company's annual goal of 2%, its average margin exceeded the annual target of 16.7 cents per gallon. "Fuel margins finished above goal for the third quarter due to elevated RIN (renewable credits) values as well as a decline in wholesale fuel costs towards the end of the quarter," commented chairman and CEO Robert J. Myers.
However, the average margin of 18.1 cents per gallon in fiscal 3Q16 was lower than the record fuel margin of 22 cents per gallon achieved last year in the same period. While talking about the lower fuel margin's impact on Casey's earnings, Myers said, "The nearly $0.04 decrease in fuel margin quarter to quarter represented approximately $0.30 on diluted earnings per share in the quarter."
Myers added, "Earnings per share were down in the quarter from the prior year primarily due to a lower fuel margin this period compared to a record quarterly margin a year ago."
Investors looking for exposure to Casey's can invest in the iShares Russell 2000 Growth ETF (IWO), which has around 0.53% of its holdings invested in the company.
Competition for the fuel segment