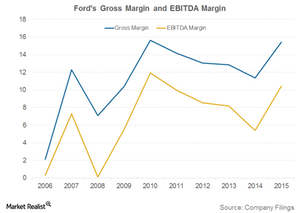 Ford's Product Mix Is Reflected in Its Gross and Earnings Margins
By Jitendra Parashar

Updated
Importance of margins
Previously, we discussed how the F-series has become an inseparable part of Ford's (F) success story. In this article, we'll discuss Ford's margins. Margins are one of the most important parameters used to analyze an automotive company (VCR).
Significant and sustainable expansion in an automakers' profit margins indicates sound growth in terms of profitability. Therefore, investors must pay attention to the margins of various auto companies to better understand the profitability of the business.
Article continues below advertisement
Ford's product mix and margins
In 2015, Ford reported a gross margin of 15.4%. This was marginally lower than its direct competitor General Motors (GM), which reported a gross margin of 15.8% for the same period. Ford has lower gross margins primarily because of its high wholesale volume along with its lower wholesale prices to dealers.
As you can see in the chart above, Ford's margins are gradually expanding. This expansion is mainly due to higher demand for pickup trucks in the US market. Note that bigger vehicles generally have a higher margin per vehicle compared to small cars. Pickup trucks' and utility vehicles' higher shares in total vehicle sales are positive for automakers.
Japanese automaker Toyota (TM) has an industry-leading margin of 19%. This is primarily due to a difference in product mix, as Toyota has a strong presence in the premium vehicle segment, which yields higher margins than mass-marketed vehicles.
EBITDA margin
EBITDA (earnings before interest, tax, depreciation, and amortization) is commonly used in measuring a company's operating margin. The EBITDA margin is the ratio of EBITDA to a company's revenue. In 2015, Ford's EBITDA margin stood at 10.4%, which was higher than General Motors' 8.5%. Higher sales of the F-series have helped Ford to improve its margins in recent years.
In contrast, Toyota and Volkswagen (VLKAY) have higher EBITDA margins of 15.3% and 14.6%, respectively. In the last couple of years, Toyota and Volkswagen both benefited from weakening local currencies, that is, the Japanese yen and the euro, respectively.
In the last two years, the Euro has depreciated ~21.3%, and the Japanese yen has depreciated ~14.5%. However, during the same period, currency fluctuation has negatively impacted Ford's margins. Along with this, there are several other factors that have impacts on Ford's margins. We'll talk about them in the next article.