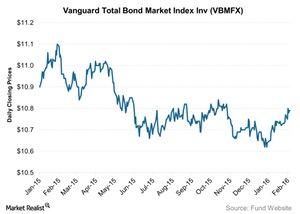 Who Is Jeffrey Gundlach and Why Is He Buying Corporate Debt?
By Lynn Noah

Updated
Investment-grade bond yields
Investment-grade bond yields were almost flat in the week ending February 5, 2016, as oil price volatility continued to grab headlines along with global growth concerns and the Chinese economic slowdown. It's also expected that market participants may receive some clarity from the Federal Reserve on the next rate hike after Janet Yellen, Chair of the Federal Reserve, offers her semiannual testimony before Congress on February 11.
Article continues below advertisement
Gundlach's interest in corporate debt
Jeffrey Gundlach, the fund manager of the DoubleLine Total Return Bond Fund, said in a conference that the dollar would fall in 2016 while the euro may strengthen. Gundlach also believes that the Fed will hike the interest rate in March 2016.
Gundlach went on to say that "the whole question for me is when am I going to buy enormous amounts of corporate credit because it's crystal clear that that's the next opportunity that's out there. There's plenty of things out there that will have 100% returns."
Economic indicators
The US Labor Department released non-farm payroll and unemployment data on February 5. Non-farm payrolls rose by 151,000 in January down from an increase of 292,000 in December. But the overall tone of the job data was positive. Meanwhile, the unemployment rate fell to 4.9%.
Furthermore, average hourly earnings rose by 2.5% YoY (year-over-year) in January, which indicates improvement in wage growth and provides a reason for the Fed to go ahead with another rate hike. Not surprisingly, one-year, two-year, and three-year Treasury yields rose after the release of the data.
Article continues below advertisement
Meanwhile, investment-grade bond yields fell after the US the Institute for Supply Management (ISM) released the latest manufacturing index on February 1. The report indicated that the US manufacturing sector contracted for the fourth straight month in January. The index rose to 48.2 in January from 48.0 in December, but it still appears to be in contraction mode.
Yield movement
Corporate bond yields, as measured by the BofA Merrill Lynch US Corporate Master Effective Yield, ended at about 3.6% on February 5, one basis point up from the previous week.
The Vanguard Total Bond Market Index Fund Investor Class (VBMFX) provides broad exposure to US investment-grade bonds. VBMFX invests in the investment-grade corporate bonds of companies such as Apple (AAPL), Wal-Mart Stores (WMT), Bank of America (BAC), AT&T (T), and Oracle (ORCL). VBMFX was up by 0.2% last week.
In this series, we'll take a closer look at investment-grade corporate debt issuances for the week ending February 5. But first, let's see how yields from corporate bonds have fared in 2016 so far.